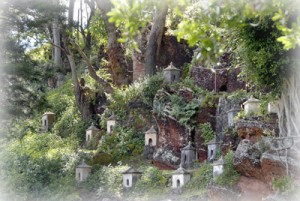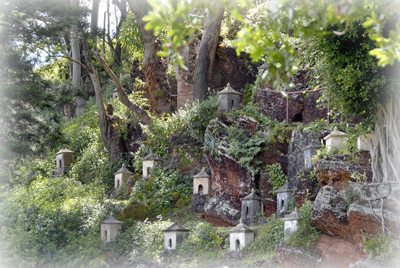 You will find, as you spend time on Kauai that this little island is full of inspiration – great and small.  The obvious include sand, sea and surf;  mother nature's gift and artistry.  Then there are those man-made interpretations/tributes to the unseen energies that surround us.
In an earlier post we brought you Kauai's Hindu Temple and Monastery and it's incredible hand-carved granite temple project awaiting 7 more years to completion.  Another, perhaps more modest, but nonetheless important perspective in these challenging times resides on a steep hillside tucked away off Kaumualii highway (Hwy 50) going west near Kalaheo.  The 88 hand carved "guardian" temples of the Lawai International Center look out over over a lush 32 acres in a tribute to a 1000 mile spiritual pilgrimage created in Japan over 1000 years ago.
A Place of Refuge & Healing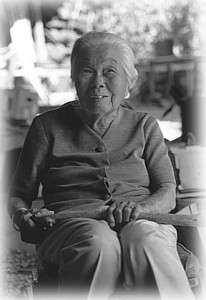 From early memory the land around the temples have been a refuge and a place of healing for the earliest Hawaiian and then later Asian immigrants. The Japanese workers in the sugar plantation days carved these shrines but since the shutting down of the sugar industry on the Island the shrines came into disrepair.  One of the founding 'mothers' of the property's restoration and preservation was one of those early  Japanese immigrants; Grandma Takano Nonaka, who on a regular schedule would visit these shrines with family members even though the uncared for shrines were covered with brush and overgrowth.
Lawai International Center Today…
Since it's "rescue" in 1991 the Lawai International Center has been a tribute to the many who have volunteered their time, monies and efforts to restore and preserve this unique shrine for Hawaii, and specifically Kauai's future generations. These generous, hardworking, compassionate individuals are spearheaded by LCI's current president Lynn Muramoto.  Muramoto's vision is to continue to restore and develop the area complete with the rebuilding of the original Japanese pavilion that was on the land during the shrines inception, visitor cottages, upgraded access routes and a learning center open to all.
Each year hundreds attend the traditional pilgrimage of  compassion honoring the spirit of the shrines, bringing their requests for healing and inspiration accompanied by the hauntingly beautiful music of master shakuhachi flutist Riley Lee.
Tours on Two Sundays a Month…
If you can take the time, be sure to experience this unique example of the honoring of history, peace and compassion that continues to blossom here on Kauai. On the second and last Sunday of each month, Lawai International Center offers an open house with tours beginning at 10 a.m., noon and 2 p.m. For more information call 808-639-4300, LM@hawaii.rr.com and visit the website at www.lawaicenter.org.