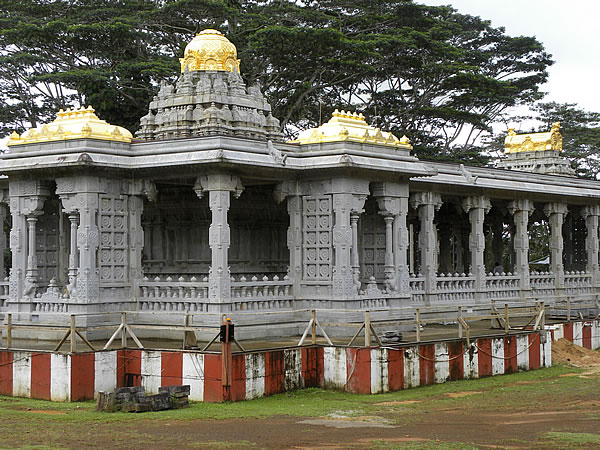 Kauai has many special 'gems' that are worth your visit here on the Garden Island. 'Natural' 'wonders abound with sunny white sand beaches, magnificent surf and snorkel spots, and mountain trails that lead to the idyllic waterfall.  But there are some marvels that are quietly tucked away,  just waiting to welcome you.  Established in 1970, Kauai's Hindu Monastery, and now the site of the San Marga Iraivan Temple on the Island's east side is one of those spots that moves into the 'wonder' category.
Home to 21 monks of the Saiva Siddhanta Yoga Order as well as 'executive offices' for the worldwide publication Hinduism Today, the monastery is available to tour every day, but only a limited self -guided version. To really experience the beauty of the temple and the temple grounds in person one must call ahead of time to reserve a spot for the 90 minute guided tour held just once a week.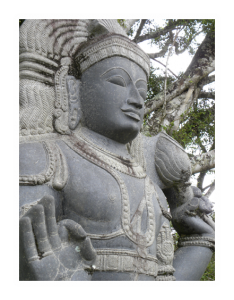 During a recent tour, our docent set the stage and welcomed Hindu and non-Hindu alike, painting a clear and interesting view of the history behind and accomplishments to date of the monastery and of the monastic life and philosophy of this particular Hindu sect.
As we walked the grounds the lush flora we have come to know as Kauai were very evident as well as their meticulous care and that of the surrounding buildings, grounds sculpture and art.  It's a very harmonious marriage of the man-made and nature.
But nestled within this jungle-like splendor is the monastery's 'shining jewel', the hand carved, all stone (white granite) Iravan ("He who is worshiped") temple.  The temple  is the first ever built with the hand carved process in the western hemisphere and built to house another incredible gem, a 700+ pound quartz crystal (a Sivalingam).
Expected completion of the temple is somewhere around 2017 and just watching the demonstration of the work/art it takes and  the imported artisans (silpis) patiently chipping away at these incredibly dense stone blocks is a wonder in itself.
For a preview of the grounds and tour of the temple, visit the monastery's website.
Give yourself the gift while visiting the island of taking a tour of the Monastery and it's grounds as it is a pleasantly uplifting yoga (union, or the bringing together) of the ancient and modern worlds and of the ethereal and the tangible.