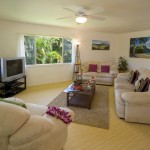 This week I wanted to feature one of the best priced Kauai  Vacation Rentals around (in my opinion)!  The Ikena Makana at Tunnels Beach is a spectacular find.  Located on Kauai's North Shore in the town of Haena… This vacation home is 3 bedrooms and 2 full baths.  All King beds, so makes for a great place for couples traveling together.  Newly remodeled the house boasts bamboo wood floors, slate counters, pebble-stone baths… not to mention all new furnishings.  One of my favorite things too is all of the incredible art work.  Don Lazo is the local Kauai artist and his work is featured through-out the home, a very talented man.Kauai that compares to the Ikena Makana at Tunnels Beach.  A shining gem in the Kauai Vacation Rental world!
Please do take a moment to check out Ikena Makana at Tunnels Beach for your next trip to the island of Kauai.  To learn more about the area of Heana and Tunnels Beach please do check Jean and Abbott, Luxury Kauai Vacation Homes.
Happy Vacation Home exploring!