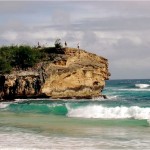 Kauai's Shipwreck Beach along Keoniloa Bay and in front of the Grand Hyatt Kauai was never much of a beach -until the hurricane blasted the south shore of Kauai and created a new
coastline. What was once a thin curve of sand is now a long, golden crescent divided by lava rocks. It's called Shipwreck Beach with good reason; the surf is powerful, breaking in long, shining arcs which crest slowly, one at a time, with deceptive smoothness, and then crash in thunderous explosions of spray not far from shore. Local people warn that beyond the break point are dangerous currents and large rocks. A better place for family swimming would be Poipu Beach Park, and novice surfers would be better off at Wailua Beach, where rocks and wind are not a problem and a lifeguard is on duty. Be particularly careful during summer months, when a south shore
swell can bring big surf.
Instead of swimming, you can climb the cliff to explore strange caves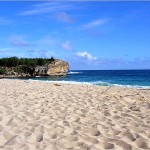 and rock formations. The colors are breathtaking – the deep blue of the water and the gold of the cliffs dazzle the eye, and the view down is a dizzying spectacle of surf crashing against the rocks. Be careful, though.  Avoid going close to the cliff's edge, as the footing is slippery with loose
sand. It's great for photographers but not for children.
Please do take a moment to navigate through our many amazing vacation rental properties in the Poipu Area.  A great place to stay for vacations full of sun and fun!
Directions: (Starting Point: Poipu) Take Poipu Rd past the main entrance to the Hyatt Hotel. Turn toward the water on Ainako Rd. Park in the lot. Public access restrooms and showers are by the parking lot. Shipwreck is 14 miles from Lihue; 24 miles from Kapa'a; 44 miles from Princeville.