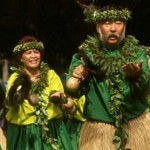 If you've ever seen a movie that takes place in Hawaii, odds are there was a Lu'au scene.  This is where everyone stands around with a Mai Tai in one hand and a plate of Kalua Pig in the other.  There's always a show where someone is twirling a torch lit at both ends, and, of course, the obligatory hula dancers.  And the truth is, that's not far from reality!  The pig is baked in the ground (called an Imu) all day.  If you like Pig, people say it is absolutely delicious.  I don't eat pig, so I wouldn't know… but it does smell good!
The Lua'u shows are usually exciting and fast moving.  Although the Lu'aus on Oahu can make you feel like cattle being led to slaughter, Kauai's Lu'aus are somewhat smaller and much more pleasant!
All in all, Kauai Lu'aus can be a real blast!  If your time on Kauai allows for one, it is highly recommended.  I have two personal favorites on Kauai, Kalamaku at Kilohana and the Smiths Tropical Paradise… My family and I (husband, me, visiting Grandpa, 3 year old and 1 year old) took a night to explore each and we ALL had a blast!  In our family it is pretty rare to find something to do that pleases everyone… I think we found it with these two Kauai Lu'aus! Check out our reviews here…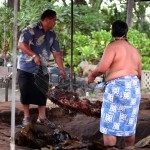 Lu'au Kalamaku at Kilohana is one of the largest Lu'aus in the state.  Their 20,000 square-foot pavilion can hold nearly 1,000 people.  You may not see it at maximum capacity, as some night are cruise ship-only performances.  Instead of waiting in line at the entrance, you're encouraged to roam the manicured grounds, visit the vendor booths and grab a drink while the line diminishes.  They also offer wonderful horse/carriage rides for $8-$10 and a very highly recommended train ride for $20-28.  We just took our 3 year son on the train ride for his birthday and I was expecting something fun for him on his special day,  I was wrong, I think my husband & I had just as much or more fun!  You gotta check it out…
Seating is assigned and there is hardly a bad table in the house, with the inexplicable exception of one behind a column that we're told is only used when they sell out.  The main dishes to the feast are fairly simple (which in my opinion is great, kid friendly!), desserts are abundant and amazing and the bar, very accomodating!  The show is very energetic. captivating and highly entertaining.  Instead of the traditional Polynesian revue, they offer a theatrical production of the Polynesian migration to Hawaii.  There is a plot to the show and each element is presented with quality sound, inventive lighting and a level of intensity that remains constant throughout the how.  My toddler REALLY liked the fire knife dance (I asked him what his favorite thing about the night was, this was his answer:).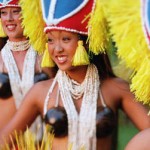 Smith's Tropical Paradise Lu'au is our other favorite.  The Lu'aus are Monday, Wednesday and Friday evenings.  The food is not the star in my opinion; it's the marvelous setting.  Smith's is surrounded by a huge garden area…. the site works so perfectly for the Lu'au.  After dinner, you move to a separate show area where a small pond separates the audience from the stage.  The show is the most dazzling on the island (if you are one of the fortunate ones, you may even get picked to get up and dance hula!).  While not authentic by any means, it's well choreographed and is quite entertaining (kids love it!), complete with the erupting volcano.  Also one little note, if you are not into the Lu'au food, you can pay a smaller fee for just show tickets.
This wraps up our reviews and personal takes on the Kauai Lu'au scene!   Please  contact Jean & Abbott's personal concierge at conceirge@jeanandabbott.com or 800-980-2559 to assist you with scheduling this must-do event while on Kauai.