Snorkeling on Kauai
Snorkeling sites along the famed Na Pali Coast provide views of rugged seacliffs, and the snorkeling sites are teeming with fish. Popular snorkeling sites along Kauai's lush north shore include Ke'e Beach as well as Makua (Tunnels Beach), with a protecting outside reef forming a lagoon where many fish can be seen.
Many prime Kauai snorkeling sites may be reached from shore while others are best accessed by boat. Lawai Beach on the south shore has a reef about fifty yards from shore with waters inside the reef about eight to ten feet deep making good snorkeling conditions for seeing the butterfly fish, wrasses, puffers, tangs and surgeon fish.
A great way to visit Kauai's best snorkeling sites and ensure safety is to take a guided snorkeling tour with instructions and snorkeling gear provided. Ocean conditions change daily so a guided tour is a good way to make sure you visit the site with the best conditions on the day of your excursion. Snorkeling tours may also be combined with other fun Kauai activities.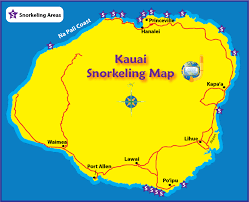 Kauai Scuba Diving 
Scuba diving on Kauai provides some of the best dive sites in all of Hawaii, from the Tunnels Reef on the north shore to Sheraton Caverns on the south shore. Crystal blue waters and a multitude of colorful fish and other interesting marine animals make scuba diving on Kauai a true delight.
When Kauai's north shore waters are calm during the summer months some prime scuba diving sites include the picturesque Ke'e Lagoon, offshore at Cannons and the maze of caverns and ledges at  Makua Beach (Tunnels).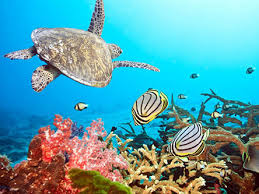 On the south shore of Kauai there are many great dive sites including intermediate and advanced boat dives at Sheraton Caverns, Brennecke's Drop-off and Oasis Reef, all teeming with Hawaiian marine life. Sheraton Caverns is home to many large moray and conger eels, octopi and other curious creatures amidst huge archways, overhangs and blown-out lava tubes.
One of Kauai's best shore dive sites is Koloa Landing (Whalers Cove) on the south shore with plenty of colorful fish and interesting coral formations. Another popular Kauai scuba diving site is Aquariums, a shallow dive spot near Nawiliwili Harbor from 30 to 60 feet deep. It has ledges beginning at ten feet deep and many large boulders that are home to lobster and octopi.
Scuba diving operators and dive shops on Kauai offer scuba diving gear rentals as well as scuba diving lessons and certification for all experience levels. Kauai scuba diving excursions also visit the pristine waters of the neighboring island of Niihau as well as Lehua Crater. Enjoy an exciting scuba diving adventure in the clear blue waters of the Garden Island.
Check in with us to have our concierge assist with further details lining up your Kauai Snorkel and Kauai Scuba Dive Trip!