Kahua o Kaneiolouma – an Ancient Hawaiian Village
If you've been to Poipu recently, you've probably noticed the restoration project underway near Poipu Beach Park.  The Kāneiolouma Complex in Poʻipū, Kauaʻi, is an important part of the Hawaiian cultural renaissance. Until recently this site remained over grown and a complete mystery. Now the ancient village is being brought back to life!
The 13 acre complex contains numerous habitation, cultivation, sporting, assembly, and religious structures dating to at least the mid-1400's.  Kāneiolouma is wahi pana, a storied place. It is considered sacred to the Hawaiian culture as well as an important historic landmark for the residents of Kauaʻi. Within the complex, an intricate system of walls and terraces trace the architecture of an ancient way of life. Remnants of house sites, fishponds, taro fields, above ground irrigation channels, shrines, altars, and idol sites lie relatively undisturbed near the scene of epic battles and legends in history spanning a millennium. Near its center, the complex contains what may be the only intact Makahiki sporting arena in the state. The site also contains the sacred spring of Waiohai.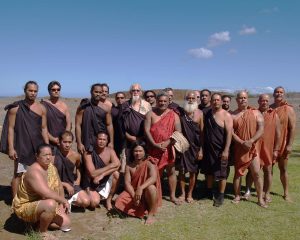 We encourage you to learn more about the Kaneiolouma Project or to donate, visit the Kaneiolouma Project website If you are visiting the island, please do take a moment to drive by and visit the viewing platform and new Interpretive Signs located on Poipu Road. At this time the interior of the Heiau remains closed for reconstruction.
Information provided by friends of Kahua o Kaneiolouma