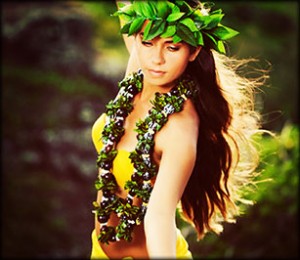 What is Hula?
Hula is a uniquely Hawaiian dance accompanied by chant or song that preserves and perpetuates the stories, traditions and culture of Hawaii. Hawaiian legends tell stories of hula beginning on the islands of Molokai and Kauai. Today, this enchanting art form has become a worldwide symbol of Hawaiian culture and the beauty of Hawaii's people. The popularity of hula has spread to the U.S. mainland, Japan and even Europe.
There are many types and styles of hula. Hula auana (modern hula) is danced to western influenced music and features a more modern and fluid style. This is the most familiar type of hula to visitors. Hula kahiko (ancient hula) is danced to dramatic chants and percussion with more traditional costumes.
Where can I see hula?
You can see authentic hula throughout the islands at seasonal festivals and competitions as well as live performances at hotels and resorts. The Merrie Monarch Festival (March – April) held in Hilo on Hawaii, the Big Island is the world's premier hula competition, but tickets can be tough to get. Other outstanding hula events are held throughout the year in Hawaii. The Prince Lot Hula Festival (July), as well as the Kauai Mokihana Festival(September) on Kauai also feature authentic hula. Molokai, which is especially proud of its hula traditions, celebrates the hula every May at the Molokai Ka Hula Piko Festival.
A luau is another fun and festive place to watch the hula and learn about Hawaiian and Polynesian culture. Fantastic luau venues can be found throughout the islands like the Aulii luau at the Sheraton Kauai, the Paradise Cove Luau or the Alii Luau at the Polynesian Cultural Center on Oahu, and the Old Lahaina Luau on Maui, to name a few.
Where can I learn hula?
Hula is traditionally taught by a kumu hula (hula teacher) in a hula halau (hula school). Visitors can get a free lesson at places like the Royal Hawaiian Center or the Waikiki Beach Walk on Oahu. If you're brave enough, some luau shows even let you take the stage to show off your new hula skills.
To learn more about hula, browse the links below:
> Hula of Molokai
> Hula of Kauai
> Hula of Hawaii's Big Island
> Luau of Oahu
> Luau of Maui
> Stories of Hawaii, The Hula of Kauai
Article provided by Go Hawaii and the Hawaii Tourism Authority