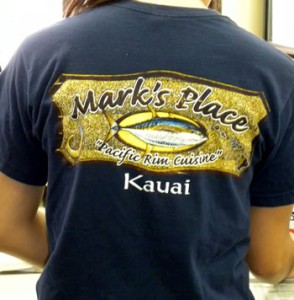 If you're staying in a Kauai vacation rental, that probably includes at least one trip to Costco in Lihue to stock up, right?
So here's a tip: stop by Mark's Place in Puhi before or after. Mark's is where we get plate lunches (with a gourmet twist), fresh salads, desserts and all kinds of good stuff.
Mark's daily specials are posted on his website, and they run the gamut—from an Angus burger with bacon and caramelized onions to seared ahi with wasabi beurre blanc. And there's always a salad special, like seared poke over organic greens.
Mark's is also a great place to buy omiyage (literally "pack to fly"). This is the Japanese tradition of presenting gifts to family, friends and co-workers upon returning from a trip. On Kauai, omiyage usually involves food, and Mark's has everything from brownies to butter mochi to soothe the hearts and tummies of those back home. (The ones who weren't lucky enough to go to Kauai on vacation with you.)
Need directions? Take the road behind Costco heading toward Poipu, turn left on Kaneka, right on Puhi Road, and left on Hanalima. Mark's is on the second corner to your right.