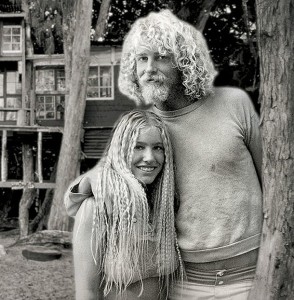 If you're on Kauai this weekend and want a glimpse into a very interesting part of the island's history, there's an event at Art Cafe Hemingway on Saturday at 7pm that you don't want to miss.
Way back in 1969—allegedly to get revenge on a recalcitrant Building Department—the brother of actress Elizabeth Taylor allowed a whole lotta hippies to camp on his oceanfront land in Haena, and for the next seven years "Taylor Camp" became a pot-friendly, clothing-optional commune.
Vietnam vets, surfers and hippies flocked to Taylor Camp and built elaborate tree houses in the jungle. Babies were born, gardens grew… but eventually the land was condemned by the State and torched to the ground, leaving ashes and memories of what many former residents call "the best days of their lives."
Using historic footage, photos, and interviews, author/filmmaker John Wehrheim produced a book and a stunning documentary, "Taylor Camp." On Oct. 6 he'll host "Homage to Taylor Camp"—a discussion covering the making of film, along with rare and original gelatin silver prints of the era, plus live music (from "back in the day") by Anahola's Jeff Caldwell.
Admission is $8 and includes one welcome drink (with or without alcohol). Dinner and drinks (a "market-inspired" menu with locally-grown produce) is available for $45. Art Cafe Hemingway is located at 4-1495 Kuhio Highway in Kapaa. For reservations call 808 822-2250 or email jana@artcafehemingway.com