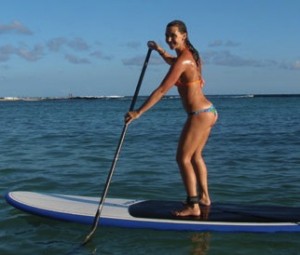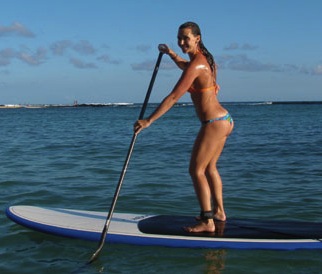 Want to learn how to surf or stand-up paddle while on your Kauai vacation?
I wouldn't hesitate for a minute to recommend our friend Kelley Hunt in Poipu. He is SUCH a great surfer and waterman… and he's awesome with kids, too.
His company, Kauai Stand-Up Paddle Tours, teaches all ages and skill levels. In the initial 1-1/2 to 2 hour lesson you learn the basics on the beach before you get in the water—and the instructor will give you all the assistance you need while you paddle around in a very safe area.
Longer tours (2-3 hours) also start with basic skills, but instead of padding around in a bay you're taken to the ocean or a river (ocean tours are for more experienced paddlers; river tours are calm and easy, suitable for everyone from young children to seniors).
Experienced paddlers can sign up for Kelley's "elite" tour: a two-mile downwind run along Kauai's pristine coastline.
Kelley's Surf School offers private and group lessons and summer day camps June through August. Lessons are on soft top surfboards, and all instructors are first aid and CPR certified. Experienced surfers can sign up for private tours: local pros will take you around the island and give you a chance to surf the island's best waves.
Need more info? Call Kelley at 808 652-9979 or email contact@kauaisurfandsup.com