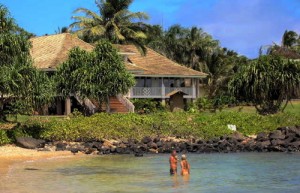 Family, fun, fireworks, the beach… if you're looking for a great place to "camp out" this Fourth of July, this five bedroom "old Hawaii" style beachfront estate has it all (and it sleeps up to ten).
Adjacent to a white sand beach and swimming cove, this Poipu vacation home has a spacious covered lanai, a large lawn sloping to the sea, and views up and down the coast. (Heck, you might even see the fireworks at the Pacific Missile Range Facility from the deck of Hale Ohana.)
Actually, if you're anywhere on Kauai on July 3rd, consider attending the free annual Stars and Stripes Freedom Celebration at Barking Sands. It takes place from 5 -11pm on the PMRF base… food, games, fireworks… and live entertainment by Anuhea, the Greenstone Project, Revival, and The Quake.
Enter via the Kokole Point Gate adjacent to the Kekaha landfill (there will be signs on the highway). This being a military base, all vehicles are subject to search. Check here for a list of prohibited items, or call 808 335-4346 for more information.