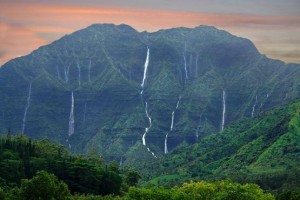 Guess we've had enough winter rains lately to ensure that Kauai will be VERY green this St. Patrick's Day (sorry, but "no rain, no rainbows").
Hopefully the luck of the Irish will shine on us in the form of sunny skies, so you'll be able to tee off on Kauai's awesome golf greens, or don a green sarong and hit one of our bonny beaches.
But if you celebrate the holiday the traditional way, Rob's Good Times Grill and Kalapaki Joe's in Lihue will no doubt be rocking—and Joe's on the Green is your best bet if you're staying in Poipu on the south shore.
If you're in my hometown, be sure to visit the Hanalei Gourmet and say hi to "Big Tim," who serves up yummy corned beef and cabbage every year along with lots of raucous cheer. Then, at "Happy Hour"—which admittedly may be difficult to gauge on St. Pat's—head across the street to Tahiti Nui for an all-Irish set with our own Matt Bolton, who really knows his chops. Order a Black & Tan and stick around: Matt will be playing with a full band from 9:30pm to close.