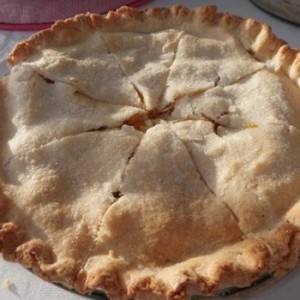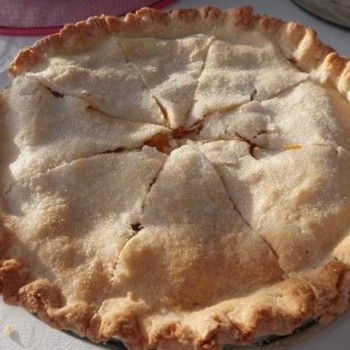 Kauai's very popular purveyor of fresh pies – The Right Slice Bakery –  now has a retail location in the Puhi Industrial Park in Lihue.
They just had their grand opening (sorry, you missed the pie-eating contest), but you can pick up fresh pies daily from 11-6, or enjoy a slice and a cup of coffee there.
The Right Slice is deservedly famous for their deep dish pies with hand-rolled butter crusts and fillings from local farms, but they've recently added savory chicken pot pies to the menu. If you call at least an hour ahead, they'll pop one in the oven so it's piping hot and ready to take home for dinner.
For dessert you may consider their Caramel Apple Pecan Pie ("ooey gooey candy bar in a pie shell") – but you can't go wrong with the Chocolate Coconut Macaroon. Trust me.
The Right Slice is located at 1543 Haleukana St., one block from Mark's Place (another favorite), or you can pick up their pies at these Farmer's Markets:
Monday 3-4:30 in Lihue behind Kmart
Tuesday 2-4 in Hanalei (at Waipa, one mile north of Hanalei)
Wednesday 4-6 in Poipu at the Kukuiula Village Shopping Center
Friday 5-9 in Hanapepe ("Art Night" in front of Talk Story)
Saturday 10-1 in Lihue at Kauai Community College
A Little Slice of Heaven
Enjoy each tender bite on the wrap-around lanai of Sunset Hale, a beautiful Kauai vacation rental in Poipu—and work it off afterward in the sparkling blue swimming pool.
This beautifully furnished four bedroom/four bath vacation home on the Kiahuna Golf Course is centrally located for a Kauai golf or a Kauai beach vacation. Or both!