Your trip to Kauai is an opening to nature's exquisite art. Cascading skies of blue meet their counterparts in surf and sand, luscious green mountain landscapes are festooned with breathtaking flora and fauna that have aptly nicknamed Kauai; the Garden Isle. Kauai also boasts multinational "human beauty"; residents and visitors add to it's canvas of diversity.
Kauai Art Walks
Trying to capture all this beauty even for a moment is no simple task, but an intrepid band of Kauai artists make it their passion to interpret Kauai's infinite energies on a multitude of mediums.  And there is arguably no better  place to experience this abundance of talent than to take a stroll on one of (or all) of Kauai's  eclectic "Art Walks' .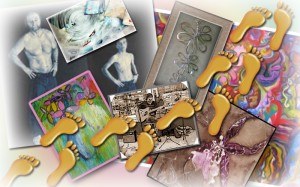 Hananpepe Art Walk
Perhaps the oldest of the art walks is the weekly happening in Kauai's "Biggest Little Town", Hanapepe. Every Friday night is "Art Night in Hanapepe" and this sleepy little town wakes at 5pm and winds up around 9 pm. Around 15 galleries proudly display local artisan wares for local and visitor alike. Local talent serenade you as you stroll down main street.   The Hanapepe Cafe (#808-335-5011) offers a way to start off and/or complete the experience with culinary art of their own. Set in a vintage 50's style drug store, the cafe offers an ever-changing menu. Bring your favorite bottle of wine ($5 corkage) and enjoy their delicious cuisine.
Poipu Art Night
Moving from the west side down to the south side, every third Thursday from 6-9pm is Kukui`ula Village's turn to invite those wanting to whet their artistic appetite complete with live music, wine tasting, and pupus.   Galerie 103, the Red Bamboo Collection, Scott Hanft Photography, Hawaiian Salt and Palm provide the venue for the local artisan while Living Food Market and Cafe host a formal wine tasting and pupus (appetizers) from 6-8pm.
Kapaa Art Walk
Last but certainly not least the east side of the island in Kapaa town hosts it's art walk on the first Saturday of the Month. Artists set up their stands between the Alley Cat Art and A. Ell Atelier.  Angelique  Ell, the driving force behind the Kapaa Art Walk and owner of A. Ell Atelier, features a different artist in her boutique every month. Entertainment runs the gamut from music groups, solo artists to even fire dancers!
Enjoy a day of fun in the sun and surf and then experience an evening of Kauai culture, art and entertainment at one of these Island art walks.   You won't have far to"walk" to enjoy and admire  Kauai's considerable artistic talent as well as unique opportunities for gifts and memorabilia to take home.