Kauai like legends of old, holds the siren song for many travelers with her lush tropical splendor that assault all the senses. Her 'aina' (land), her natural surroundings has many secrets and lessons for us, and along with that splendor and beauty is also a dark side that is an exacting teacher in its own right.   Many times those areas in nature are designated "Kapu",  the Hawaiian word that translates into English as "forbidden" or "marked off" or ritually restricted.
Every year Kauai is the unfortunate site to the untimely demise of visitors that do not approach it's beauty well-prepared; with respect or with a  good deal of caution.
You say Kipu Falls I say 'Kapu' Falls.
In the past five years  Kipu Falls has been the scene of 5 fatalities, two since December 2010.  The 20′ foot jump from the top of the waterfall or it's rope swing are exhilarating to-be-sure, but if you do not know what you are doing it can be lethal.  Those that have died have been pulled under usually while trying to swim to shore and there is the thought that there might be  a whirlpool current responsible for these deaths. A teenage girl was paralyzed after her jump.  Still others have suffered chest injuries, rope burns, perforated ear drums, sprained and broken ankles.
Kauai's bureau of  tourism is urging guidebook publications and the local hotel concierges to remove their recommendations to Kipu Falls.  Not only are people being hurt but their cars parked on the road on the way in to the falls are often being vandalized.  Needless to say Kipu's inherit beauty has been tarnished by these incidents.
Queen's Bath
Queen's Bath is a natural tide pool in the Princeville area that is a favorite destination for many.  It takes  a ten minute hike over lava rock terrain (for those with mobility problems this is not recommended, a fall onto lava rock can create some serious cuts and abrasions).  The "bath" itself is about the size of a large swimming pool.  Inlets on the sides of the pool let water in from the ocean to refresh it and usher in some of the local fish.  The danger usually is present in the winter months (October to April) where the waves are at their maximum height and strength and people (as recently as this last December 2010) have been swept off the rocks and drowned.  Surf conditions can be deceiving as the calm can last for up to a half hour before waves sweep the unstable terrain surrounding the pool knocking people down and dragging them out to the ocean.
Hanakāpīʻai Beach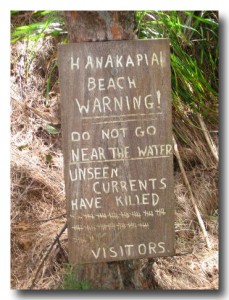 Farther North a sign is posted and although the word Kapu is not used it is fairly clear this beach and it's surf are not to be trifled with.   If we are to believe the reports – the death count is now upwards of 80 people many of whose bodies have been lost to the ocean and never recovered.   The beach is approximately 2 miles (3.2 km) from the start of the Kalalau Trail, and during the summer months Hanakāpīʻai's sandy shore line is clearly visible; but again with the winter swells this area shows its' "dark side" as  powerful waves, high tides and rip currents wash away the shore line.  There are no major reefs to calm the surf conditions and  Kauai's geography makes Hanakāpīʻai even more perilous. If one gets caught in a rip current (or otherwise swept out to sea) the nearest safe shore area is approximately six miles away.
Enjoy Kauai's beauty, but be cautious and safe. These three spots are reminders of the tried and true  axiom "When in doubt, don't go out" on whatever Kauai  beach you decide to visit.  Research first, then you can make an educated plan as to the best and safest places to explore and enjoy the Garden Isle.
Safer Alternatives…
For safer alternatives for thrill seekers, we recommend taking a Zipline tour – available both on the South and North shores.  Visit these sites for more information:  Outfitters Kauai and Princeville Ranch.