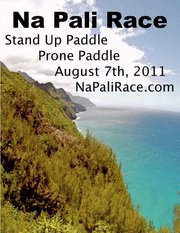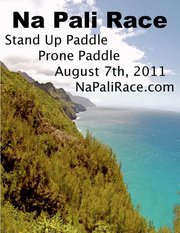 Registration is open for the second annual SUP/Paddleboard Na Pali Race, August 7 on Kauai. With amazing views of mountains, caves, cliffs and waterfalls, paddlers call this 17-mile race "unforgettable."
The race kicks off at the Haena Beach Park and finishes at Polihale State Beach Park on the westside. The fastest time recorded last year was 2 hours, 22 minutes and 30 seconds for the SUP Unlimited Men's Division. The winning female SUP clocked in at 3:41:45, and the prone paddler record was 3:05:50.
Paddlers must have both ocean and paddleboard experience to participate: the Na Pali Coast is known to have strong winds, currents, and dangerous ocean conditions. The coastline is only accessible by boat or helicopter for a rescue, and there is no cell phone service along the coastline (including the start and finish line beach areas).
Online sign-ups are available through July 31, 2011, and entry forms are available at local surf shops. All entrants will receive an event race jersey, t-shirt and hat, plus food and drink at the awards ceremony.
Transport shuttle vans back to the North Shore will be offered for an additional fee, and Kauai Water Patrol lifeguards and escort boats will support the paddlers as they make their way along one of the most spectacularly beautiful coastlines in the world.
A portion of the event proceeds will benefit the Na Pali Coast 'Ohana, a grassroots, non-profit foundation dedicated to the preservation of the natural and cultural resources of the Na Pali Coast.