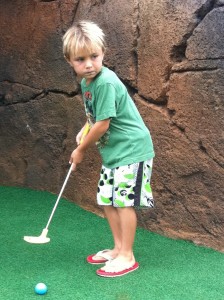 Kauai Mini-Golf is what our 5 yr. old lives for… well, maybe not lives for, but gosh, that boy is hooked!
After one round of the island-style, 18-hole golf experience he wants to go every weekend, holiday, birthday, you name it!
(Needless to say, we have played quite a few rounds.)
Not only is this a fun, kid and toddler friendly Kauai activity (our 2 yr. old had a blast too) – but the setting – in a gorgeous botanical garden – sheds light on Hawaii's history and agricultural heritage (great read-along signs at each hole). It's always great to have a combined fun and learning experience for our keikis.
Not to mention that for all the adult golf-pros out there, it's a great way to brush up on your short game!
Kauai Mini-Golf is located in Kilauea at 5-2723 Kuhio Highway (next to Banana Joe's fruit stand). It's open every day but Monday, 11 am – 9 pm.