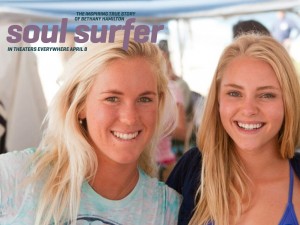 I'll never forget the sinking feeling in my gut when I heard ambulance sirens screaming toward Princeville. It was a perfectly clear, crisp late October morning – way too beautiful of a morning for anything bad to happen.
Only later did we discover that one of our daughter's best friends had suffered a horrific surfing accident and lost her arm in a shark attack.
Since then, we've all watched Bethany Hamilton recover with a strength and grace few of us could imagine. We've marveled at her unbelievable ability to see the positive in any situation, been amazed by her unshakable faith, and in awe at her unwavering belief that things happen for a reason.  Not to mention watching her get back in the water and tear it up just four weeks after the accident. "Aren't you scared to surf now?" I once asked her.
"Nah," she shrugged, "what are the odds?"
Bethany is "Kauai's Sweetheart" – an inspiration to us all. "Soul Surfer," the movie based on her story, is playing in theaters now. We loved it – and we think you will too.