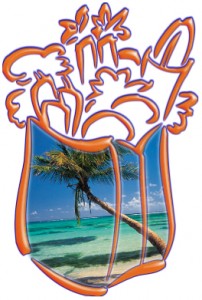 You're just settling in to your incredible Kauai vacation rental, reclining into your comfy beach chair, warm sun bathing you, tropic breezes carrying the sweet scent of plumeria, lazy waves lap up to meet your feet, but something is missing!
Of course!  A cool beverage, a bag of your favorite crunchy, salty — something, maybe some cookies, organic is important, you think you're glucose intolerant, you've got a great barbecue set up in your rental but who has your favorite BBQ sauce?
Shoots! You need to do some grocery shopping…
But where to go? You thought you saw some stores on the way in from the airport….Well, not to worry,  Kauai has it all from family-owned  to Big Box, from Kimchi and Poke to good 'ol hamburgers and hot dogs,  it's all here!
Traditional Grocery Stores on Kauai
There are three 'traditional' groceries/markets/chains  on the island;  the Foodland Stores located in Princeville and Kapa'a,  Safeway Kapa'a, and Times Supermarket in Lihue.  At these grocery stores you will find all the staples,  just about everything you need — and then some. Convenience and price, all pretty similar (watch the weekly, daily news for the specials) your choice will come down usually to who is closer.  For 60+ years local chain Big Save Markets in Hanalei, Kapa'a, Lihue, Koloa, Eleele and Waimea offer more locally made and produced grocery items and boast lower prices to compete with the bigger chains.
…and a Big Box Store too!
For those traveling with a big family or group Costco in Lihue is available.  Years before Costco came to the island Kapaa had the first 'big box store' and is still faithfully serving the community.  Cost-U-Less – a non membership – local "warehouse store" that is a little more convenient for those living and staying on the north shore and who do not want to trek all the way into Lihue.
Local Family-Owned Kauai Grocery Stores
Staying with the local theme there are those family-owned grocery stores that have been around "forever" and along with groceries and their own inimitable aloha spirit, each have their unique offerings.   Kojima's in Kapaa is a prime source for the best grass-fed local beef on the island.  Sueoka's in Koloa Town has a wide range of Asian, and Philippine groceries, cooking staples  and seasonings, while Kukuiula Market in Koloa prides itself as the southside's prime location for reasonably priced organic produce and gluten free items and Ishihara's Market in Waimea has a poke section that is second to none.
Kauai Health Food Stores
Depending on  where you are stayingyou have a superb choice of stores that cater to the sustainable whole foods, no GMO, gluten free, truly organic-no-panic faire.    The Harvest Market in Hanalei is a recent turn over from Papaya's Natural Foods Store and has remained pretty true-to the original along with a fresh, whole foods deli. Healthy Hut Kilauea has the mom and pop feel in the health food genre.  Papaya's Natural Foods and Cafe in Kapaa may be one of the oldest health food stores on the island also equipped with a deli-lunch-smoothie bar.  Also located in the north end of Kapaa is Hoku Whole Foods that also provides a membership co-op.  Vim 'n Vigor is Lihue's health food representative, squirreled away on Kapaa's Kuhio Highway next door to Subway.  Soutshore's Living Foods Market owner Jim Moffat (also owner of Hanalei's BARacuda restaurant) continues his support of local growers from the heart of Kukui'ula village in Poipu.
So there you have it, Kauai grocery stores for you favorite brand names, and local faire too; and don't forget Kauai's weekly farmers markets for fresh produce and flowers.