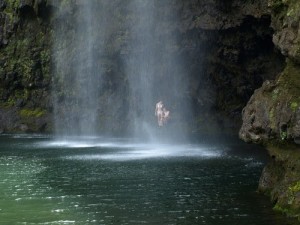 It's been described as long, challenging, strenuous, muddy, rocky, steep, wet, treacherous, slippery—and the most beautiful place in the world.
The 2nd Loveliest Waterfall…
We're talking about the trail leading to Hanakapi'ai, the Kauai waterfall CNN Travel just named second loveliest on the planet, right after Niagara.
CNN describes Hanakapi'ai as a thin veil of water plunging 300 feet from "volcanic-rock cliffs cloaked in tropical rain forest that calls to mind the prehistoric, untouched beauty of the landscapes in the Jurassic Park films." We locals just call it the waterfall two miles in on the eleven-mile Kalalau Trail, which winds along the Na Pali Coast on Kauai's north shore.
How to Get There…
Park your car at Ke'e Beach in Haena, about fifteen minutes north of Hanalei at the end of the main (pretty much only) highway. Get there early before the lot fills up, and be sure to take a camera, sunscreen, mosquito repellent, snacks, plenty of water, and sturdy shoes: do not try this barefoot or in slippers.
Two miles in you'll reach Hanakapi'ai Beach, where you may encounter pods of dolphins playing in the surf, or pods of semi-naked humans lolling on the sand.
A Warning
Though enticing, this beach is dangerous due to a gnarly shore break and riptides – use extreme caution. Better yet, save your swimming for the deep green fresh water pool at the base of the waterfall, about two more miles further inland.
Just follow the trail back into the valley – over rocks, through bamboo forests, and crisscrossing the stream – until you reach the falls. The entire hike is 8 miles round trip. It takes about two hours each way, or longer if you decide to linger, which you undoubtedly will. Pick some fragrant white ginger, bite into a sweet, ripe yellow guava, yell like Tarzan… and marvel at the amount of indelible red Kauai mud on your shoes, which will be a permanent souvenir of your journey.
One Last Thing…
You probably don't want to hike this trail after a recent rain, and never during a rainstorm when flash flooding can occur. And if you want to hike further than Hanakapi'ai, you will need a permit. For more information on the 6,175-acre Na Pali Coast Wilderness Park, see http://www.hawaiistateparks.org/parks/kauai/
And if you need accommodations on Kauai, look no further than Jean & Abbott Luxury Vacation Rentals!