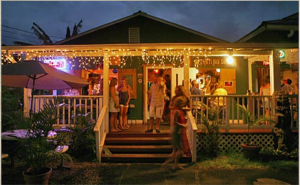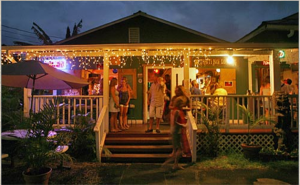 "Our food is awesome: Our pizzas are awesome, our pastas are awesome, our Chef is awesome."
Our server Darcelle basically thought everything at Tahiti Nui, Hanalei's landmark restaurant, was awesome.
The only problem was actually getting the awesome items:
The Ahi Tartare wasn't available, so Darcelle suggested we substitute the Carpaccio – and I admit, it was Awesome.
Then I ordered Eggplant Parmesan, but Darcelle advised us that it wasn't actually on the menu (apparently I was looking at the "old" menu). So I substituted the Tagliolini a la Carbonara… and I was a very happy girl.
My husband ordered the lamb chops, but two seconds later a breathless Darcelle returned with more bad news, "We had two racks of lamb, but they disappeared! The Chef thinks someone stole them – and he's really pissed off!" So Fred ordered the ribeye with steamed spinach instead. (It came with to-die-for mushrooms—not spinach—I guess he had the "old" menu too.)
But who's quibbling? The food was great, and the portions were substantial: it's not like some other local restaurants I won't name that charge a fortune for such small portions that your husband makes you drive through McDonalds on the way home because he's still starving.
One disclaimer: considering the generous use of butter and cream, the Nui is probably not the best choice if you're dieting or trying to lower your cholesterol. But all things in moderation, right? For the plant-based part of our meal we split a gigantic Caesar salad ($10) with the most wonderful dressing, redolent of real anchovies.
And the leftover pasta the following day was just, well… awesome.