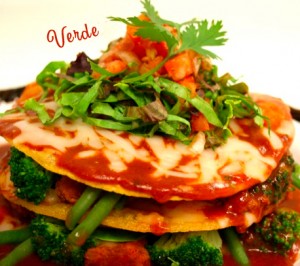 You know them, those little tucked away spots that are your special secrets, those places you think no one else knows about; and you harbor that sense of accomplishment that it was you that found it and you'll only share it with a cherished few.
Kauai is one of those places. Many will agree that Kauai is still able to hang on to the slower pace, that "off the beaten" path feeling. Congratulate yourself for finding that hideaway in paradise.
We'd like to point you in the direction of a few of our favorite local eatery 'hangouts' that aren't always in the travel guides or rack cards but have the same quality of Aloha plus are a good 'local grind find'- (Remember keep these to yourself, we don't want them to get too popular :0) !
Hanalei
You may  be getting up early until you begin to acquire "island time" so if you are up north in Hanalei scout out the Wake Up Cafe for a hearty breakfast with cinnamon rolls to die for – no frills just good grinds.
Taco stands pop up around the island, but two north shore faves are the Anini Beach Taco Truck (parked in front of the Anini Beach Park usually on weekdays) and Hanalei's Pat's Taqueria located at Black Pot Beach, Hanalei (by the pier).  We'll let you make the call on just who has the best fish tacos on the north shore.
Kilauea
Tucked away in the Kong Lung Center, Kilauea is the Kilauea Bakery & Pau Hana Pizza – some of the best baked goods on the north shore with unique and "killah" pizzas and calzones with toppings like goat cheese and sugar loaf pineapple.  Just across the street is the Kilauea Fish Market, great fish wraps and signature sauces and salsas.  Their teryaki fish and chicken plates are tres ono too!
Kapaa
Moving south and although not quite off the beaten path in Kapaa is  Small  Town Coffee, a throw back to the coffee houses of  the beat generation.  Their free trade coffees are served with smiles and artistic flair and their baked goods are second-to none.
Just a few doors down is Kapaa's cozy and extremely popular breakfast hangout the Kountry Kitchen. Prepare to wait a bit for your Sunday breakfast here because it is tres popular.  Homestyle and plenty of it!   Their blueberry pancakes are glorious!!
Moving  through downtown Kapaa town keep sharp eye out for one of our perennial favorites – Mermaids Cafe – Great Ahi cilantro wraps , fish tacos, fresh squeezed  hibiscus lemonade and super breakfast sandwiches.  There is outside dining and their adjacent bar lets you watch the talented chefs create it all.
Just down the block is Pono Market. They consistently rate as one of the best places to get a plate lunch and boast the best poke and lau lau (chicken, pork or fish wrapped in taro and ti leaves and then steamed) selection on the island.
Keep travelin' south and stop at the Kapaa  Shopping Center across from the Shell station if your looking for (in this writers opinion) the best, freshest Mexican cuisine (with island flair) on Kauai.  Verde is just steps from Big Save grocery store and is one of those hole- in-the-walls that is gaining popularity rapidly (shoots! somebody's been talking). Verde food and service have been gathering awards on the island ever since since it's opening just 3 short  years ago.
Just before you leave Kapaa you'll pass a boutique shopping center called,  Kinipopo Shopping Village.  Monico's Tacqueria has consistently delicious authentic Mexican food.   If you've got a sweet tooth check out  Passion Bakery and Cafe for cookies made with organic flour, artisan breads and delectable Croiscones (a scrumptious cross between a croissant and a scone).