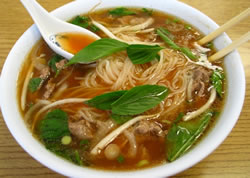 E Komo Mai! Welcome to our second installment of Hole-in-the-Wall-Grinds, those little tucked away spots that are our local favorites when  "jone-zin'" for great food at an affordable price.   If you missed the last post be sure to check out part one of  Hole-in-the-Wall Grinds on Kauai's northshore and Kapaa.
Lihue Restaurants
When you come into Lihue, (Kauai's county seat of government) keep your eye out for  Tip Top Cafe, tucked on a side street (Akahi Street) off of Ahukini Road (the main street to Kauai's airport).  Tip Top is famous for their breakfast fare like banana and mac nut  pancakes and their bento lunch boxes.   Sharing Tip Top's signage and building space is another local grind find known as Sushi Katsu, with the most reasonably priced sushi on the island.
Somewhere between a Kauai culinary institution and a hole in the wall "grind-ery" is Hamura's Saimin.  Built in the early 1950's (and remaining loyal to it's original décor,  in fact we're not sure if they've even repainted since then, but hey…) this Kauai favorite  attracts local and visitor alike on a first-come first serve basis for their 'secret saimin broth'  and variations of noodle, meat, fish, egg and vegetable additions.  Teryaki meatsticks  and Lilikoi chiffon pie are their other specialties.
Just up the street right next to Kauai's only bowling alley is Pho Kauai .  Like Hamura's, 'Pho (Bowl)  is a mom and pop shop with emphasis on 'comfort food' Vietnamese style.   Hearty and flavorful rice noodle bowls, tasty Vietnamese fried rice,  and so much more.   Proprietor "Keith"  has a photographic memory and an engaging personality and if you eat there more than once he will probably have memorized your favorite meal and have it ordered up and ready for you as he sees you walk through the door (only a slight exaggeration).    Needless to say, the service is quick and friendly and you can't beat the price!
Puhi  Plate Lunches
Worth the search in the Puhi Industrial area (just south of Lihue proper) is Mark's Place.  Lunch and dinner is orchestrated by Mark Oyama, an assistant professor at the Culinary Institute of the Pacific at Kauai Community College and owner of Contemporary Flavors Catering.  Some of the local favorites on the Mark's place menu are Mark's Beef Hash Loco Moco,  Korean Chicken, Ahi tuna salad, Mark's mixed plate lunch and daily specials.  And don't forget to top it all off with some of Mark's  incredible baked dessert specialties.
Koloa Fish Market & Plate Lunches
About 20 minutes south of Lihue is Koloa Town.   Topping the list of our favorite "Hole-in-the-wall" spots on main-street is the Koloa Fish Market.  Not only the place for prime fresh seafood on the south-side but the prime spot for picnic plate lunches and take out dinners. Their  Poke is tres fresh and don't forget to ask for some extra wasabi cream sauce on da side…..(killah!)
Poipu Places to Eat
We talked about two of the popular north shore taco wagons in our Hanalei & Kapaa Hole-in-the-Wall post, well the south-side has its favorite lunch wagons as well. Monster Tacos serving in both Koloa and Hanapepe (every Friday night during Art Walk).  Be prepared to stand in line!  And you might want to give them a quick call (808) 635-6116 to order and to see just where they are locating themselves in Koloa town.  Usually they are right in front of ATV Kauai with a yellow sandwich board sign on main-street pointing the way (but hey, they are in a van after all!).
Making our way down Poipu Road is Kukuiula Market.   Established in the 1950's their deli is well equipped to cater to all tastes including the local or visiting vegetarian  with plenty of organic, wheat free and gluten free selections.  Their salad and tofu bar is no non-sense fresh local produce. Perfect light lunch fare.
Lilikoi mustard, guava mustard, mango relish, coconut relish, sweet maui onion relish, polsih sausage, hot dog, veggie dog –  take your pick and put it all in the wrap-a-round 'puka' bun (toasted from the inside) and wash it down with fresh-squeezed lemonade and there you have it; the Puka Dog experience.  Puka Dog has been Poipu's favorite hole-in-the-wall attraction since 2002.
So, 'all Pau' for now;  our samplings of some of the best local eateries here on Kauai.  Bring your appetite and keep your eyes and taste-buds peeled, you may even find one or two more that we've yet to try!  If you have any to share please let us know!