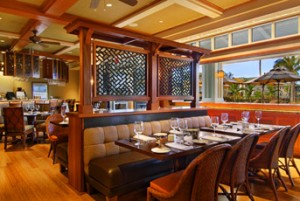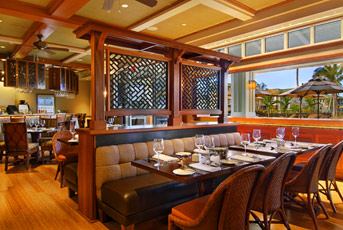 The Nanea Restaurant & Bar—tucked away below the lobby of the Westin Princeville Ocean Resort Villas—is one of the best "undiscovered" restaurants on the north shore.
They have a super wine list, but really, if you're on vacation on Kauai, how can you resist a lilikoi mojito or an Aninitini – pineapple-infused vodka with Tahitian vanilla bean and a Malibu coconut rum float? (I can't.)
I usually start with the seafood bruschetta (shrimp, scallops, and seafood in a garlicky tomato broth with toasted sourdough), follow it with a crisp "BLT wedge" salad… and I try to save room for a slice of chocolate volcano cake.
The regular menu is always available, but Monday and Thursdays are "Prime Rib nights" – always a big hit with the manly men. Tuesday is an Italian theme (lasagna and antipasti), Wednesday nights they offer live Hawaiian music along with Kalua pork spring rolls, mahi mahi laulau, and pineapple upside down cake. ($40 per person includes a Mai Tai… now I'm getting hungry and thirsty.)
That reminds me: every Friday at 5 pm (upstairs in the lobby) they offer a "Wine Down" where you can taste three specially chosen vintages for $15.
Sunday Champagne brunch – everything from prime rib to sashimi – runs $34 per person with champagne or $29 without, $15 for kids 6-12 yrs., and children under 5 are free.
Nanea is open daily for lunch (11am – 2:30pm) and dinner (5:30pm – 9pm). There's also a little convenience store/snack bar next door that serves Starbucks coffee drinks and great breakfast wraps. The Westin is located at 3838 Wylie Road. Call (808) 827-8736 for reservations.