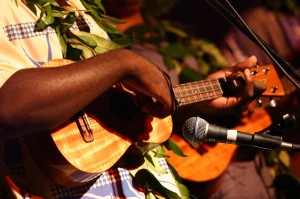 The heart and soul of Hawaiian culture is in its music, and right now Monday nights are overflowing with hula and harmony at the Kauai Beach Resort in Lihue.I hope you go to a luau while you're vacationing on Kauai—there are many,  and all are entertaining—but E Kanikapila Kakou ("Let's play music together") is the real deal.
Now, in its 28th year, this grassroots program features the best musicians in Hawaii.  It's held in a hotel ballroom, but it has the feel of a backyard jam: three hours of music, song, story, and hula—with plenty of laughter and aloha mixed in. (Don't be surprised if you see an 80-year-old "Auntie" dance a hula that makes the years melt away… and takes your breath away in the process.)
E Kanikapila Kakou is held from 6-9 pm through March 28, and ukulele players are welcome to come an hour earlier to get tips from the pros. The event is free, but please "add a dash of cash to the calabash" to help keep this wonderful program alive.