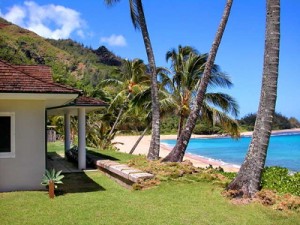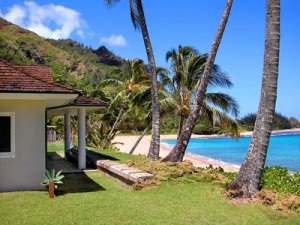 Babymoon? Huh? What's a babymoon?
After hearing the word pop up several times I did a little checking. Evidently "babymoons" are the hottest new travel trend—"pre-baby" vacations—to give prospective parents time to relax and reconnect before birth—or "post-baby" getaways to give the new family time to bond. Of course, I'm in favor of any excuse for a vacation (especially on Kauai).
And since my recent post on honeymoons I feel obligated to present information on the, ahem, possible follow up.
If you have a bun in the oven, I can't think of a nicer place to get cozy than Pu'eone, a Haena vacation rental overlooking Tunnels Beach on the northshore of Kauai.  Built in the 50s, it's got that vintage beach cottage feel—and it's so close to the ocean you'll be mesmerized by the surf breaking outside.
The oversized punee (daybed) is big enough for the whole family to curl up on… and nothing's more soothing than the sound of the waves to help put your little one to sleep… (or put you in the mood for a nap!).