Below are some of the choices for dining on Kauai's North Shore in Hanalei Town.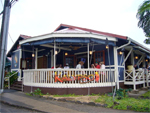 Zelo's (Kalypso Island Bar & Grill)
One of our very  favorite, hands down is Zelo's Kalypso Island Bar & Grill. Lunch, dinner, casual or a nice dinner out it's by far the best food and service on the north shore. The food is fresh, the portions are huge and the service is island friendly. One can make a meal out of the appetizers and the desserts are to die for.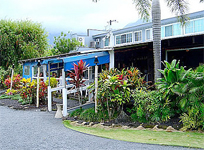 Hanalei Dolphin Restaurant, Fish Market and Sushi Lounge
The Dolphin is the only restaurant located on the Hanalei Heritage River and is a 30-year North Shore institution. Known for its fresh fish and a signature family style salad, as well as sauteed Calamari, Scallops, Broiled Shrimp, Crab Legs and Lobster – where all seafood lovers are satisfied.  Their sushi bar  boasts one of the north shores' most imaginative sushi chefs creating rolls like "U-Megan-Me-Crazy", or the the "Stolen Roll".  If you'd rather eat in and make your own culinary creations, don't forget the Dolphin's Fish Market for the freshest local catch, marinades, killer garlic croutons, and homemade dressings (the blue cheese is our favorite!).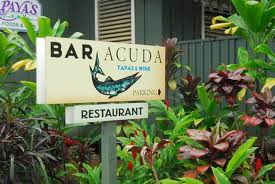 BARacuda
A tapas-style eatery (a variety of dishes to be shared) Owner and head chef, Jim Moffat makes it his business to come up with imaginative/creative menu selections every night and augments his artistry with the freshest of local ingredients and a top of the line wine list.  BARacuda gives great  attention to detail in it's ambiance. Better be sure to get a reservation.
Post Cards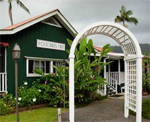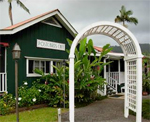 This is another spot we really enjoy for the service, atmosphere and yummy one-of-a-kind dishes. (A review for Postcards) " …We had the Thai spring rolls with a wonderful peanut sauce. Mr. S. had the Shanghai with shrimp and Mrs. had the salad with grilled fish.
The service was good and prompt. We would eat there again. 4 STARS!"
Tropical Taco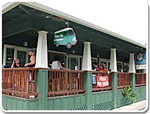 If you like Mexican, keep an eye out for Tropical Taco. Another solid eating experience  in Hanalei.  The menu doesn't change much because it's consistently good. Great fish tacos.  Owner Roger Kennedy has found a permanent parking spot for his green van. His motto remains: "Not to be consumed one hour before surfing."
"Each tasty taco or burrito is lovingly handcrafted, and you can have anything to drink as long as it's lemonade." -Brides Magazine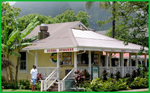 Bubba's
A perennial mainstay on the North, East and South shores of Kauai known for their great hamburgers and fun. Don't pass up a big plate of fries with your kids. Other menu items include fish burgers and a pretty good chicken Caesar salad. (Also located in Kapaa and Koloa's Kukui'ula shopping village).
The Hanalei Gourmet Cafe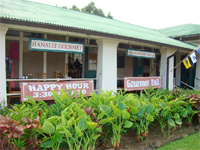 Another icon of Hanalei eateries, The "HGC" has over 20 years of service  from it's Hanalei Old School Building location. Substantial and tasty dinner entrees that the owners claim are featuring the freshest of local produce, dolphin-free tuna and home-made breads, and salad dressings all presented with a  Aloha-friendly atmosphere.  This is a great place for specialty sandwiches, hamburgers, and fries. Inside is an island sports bar type atmosphere, outside it's fun to eat on the two or three tables on the deck and watch the goings on of Hanalei.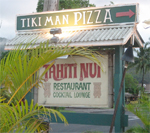 Tahiti Nui and Tiki Man Pizza
The "Nui" is a consistent favorite  from locals to visitors.  Tough to find a Caesar salad and pizza in Hanalei that's any better.  The ambiance is relaxed and welcoming and hints to a Kauai of a bygone time.  So whether it's karaoke night or local artists on Friday night, Tahiti Nui is a wonderful combination of good food, good drink (their Mai Tais have a stellar reputation) and a definite Aloha spirit.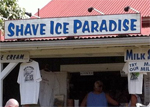 Shave Ice Paradise – (Next door to Bubba's).  Not just a shave ice store and it is rare that there isn't a line waiting to gobble down their frozen delicacies. You may wait forever – but it's worth it!