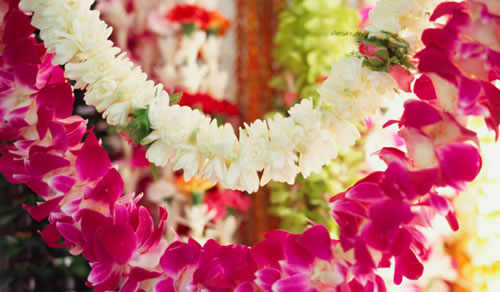 When one thinks of Hawaii, certain images come to mind; the swaying palms, hula skirts, warm sun, azure blue water and sandy beaches and blue tropical drinks with little umbrellas.  But arguably the signature image that comes to many is the garland of flowers bestowed to the arriving visitor that conveys "E komo Mai (Welcome) and Aloha!
There is no better way to bring you into the mood, to really prepare you for your Kauai vacation than to receive this spirit of the aina (earth energy/mother nature).  You know you truly have arrived in the islands when you receive a lei and a heartfelt hug.
The Signature of the Islands
The 'lei' is without a doubt the signature of the islands and like our post on T-shirts a while back, leis can be found just about everywhere; from the moment you step off the plane or walk into a grocery store or  Wal Mart.   These bountiful bouquets rest easily in their little plastic boxes just waiting to fulfill their roles as the ultimate greeters to Kauai.
While leis are often associated with Hawaii and the Hawaiian culture, the flowered lei have origins far back in antiquity as a way of communicating rank, or a celebration among the societal structure of many cultures.
A Lei for Every Island
Each of the Hawaiian islands has its own designated lei representing a harmonious marriage of texture and color;  Hawaii – Lehua, Oahu – Ilima,  Maui – Lokelani, Kauai – Mokihana,  Molokai – Kukui, Lanai – Kaunaoa, Niihau – Pupu, Kaho'olawe – Hinahina.
Leis can be made from just about anything although the flower and leaves that grow on each island are the tradition.  But feathers, shells, bone, hair and seeds are used and even songs written for a loved one can be considered leis. A child can be thought of as lei because like the weaving of the flowers, they are essentially a weaving of ancestral qualities.
A Rainbow of Variety
Popular floras used are; the maile leaf, (traditionally draped over the shoulder with open ends), the Ilima, a thin orange blossom requiring the stringing of hundreds of the blossoms and is said to be the favorite of Hawaiian royalty, the Pikake for it's incredible floral scent, the prevalent white blossomed (and sometimes pink) plumeria,  and the dendrobium orchid blossom (one that you find a lot in the grocery store, K Mart and Wal-mart), the list is almost endless.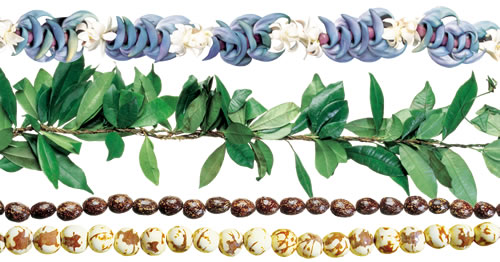 Our Favorite Kauai Locations for Flower Lei:
The Blue Orchid in Koloa Town
Flowers are Forever in Lihue
North Shore Buds and Blooms
Pua Lei (in Kapaa at Yasuda Center behind Kauai Pasta)
JC Flowers (across the street from Kinipopo shopping mall next to Mema's Thai restaurant in Wailua).
As mentioned before , K Mart, Wal-Mart and grocery stores also carry leis for those times when you are in a time crunch.  The venerable Hilo Hattie Store will not only adorn you when you walk through their doors with a shell lei but also have a wide selection of  non-perishable leis for taking home as gifts.
And Don't Forget…
Another source of beautiful flower leis is the Kauai's farmer's markets where you will find leis and their makers  before special events like graduation, traditional Hawaiian holidays, and especially May Day, which is Lei Day in Hawaii.
Be sure you don't leave Kauai without  giving the gift of a lei to a friend or loved one or treat yourself!  It's the perfect way to say – Aloha!
For more information on the history of Leis and lei making one can check out the following sites; Wikipedia, University of Hawai`i at Manoa, and Hawaii History.org.