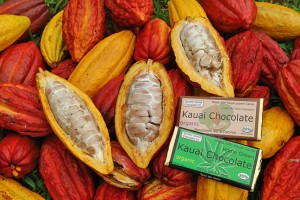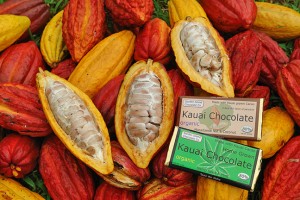 Recently we found one of those 'hidden gems' of a tour on Kauai that is not only fun for all ages,  but delicious,  educational and in tune with our shift to sustainability and organically grown food.
Garden Island Chocolate, a fledgling company, has the only locally grown and produced chocolate on the island of Kauai.  For the last year, Garden Island Chocolate has been conducting a special three hour tour of  Ein Rogel Farms, located on the East side of the Island, just above Kapaa town.  They grow varieties of cacao that they use to produce the Garden Island chocolate Bar.
The qualities of chocolate were evident to this 'chocoholic'  (what more does one need to know than to bite into that rich dark delicacy anyway?).   But during the tour of the 12-acre farm we were pleasantly surprised by the incredible health qualities inherit in the Cacao bean;  like the fact that chocolate has more flavenols than any other type of food.  This provides antioxidants we all hear about that help to neutralize cancer-causing free radicals in the body.  Not to mention all kinds of compounds like tryptophan, Phenylethylamine and serotonin — all contributing to the feeling of well being.   (I knew that!)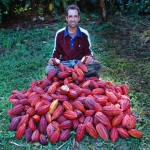 You could tell that our tour guide, Jesse, was passionate about this business and the environment and though chocolate was the focal point of the tour we were introduced to, learned about and tasted (yum) island fare like mangosteen, coconut, breadfruit, atemoya, (you must try this one in season) vanilla, coffee, rambutan, avocado, blood red orange, tangeloe,  tangerine, white pineapple, macadamia nut, sugar cane, breadfruit, and pomelo –  just to name a few.  All on a farm that prides itself in using and exploring the most up-to-date techniques in sustainable, organic agriculture.
Not wanting to give the whole tour away,  but the folk at Garden Island Chocolate saved the best for last.  After being treated to all this fresh fruit and unparalleled beauty, the chocolate tasting was the 'coup de grace'.   Tea and coffee were paired with the various varieties of chocolate.  We'll let you take the tour to taste which one you like best!
Truly a worthwhile Kauai tour!  Call to reserve a spot on the next tour at (808) 346-8391. The tour is open rain or shine and the cost is $55.