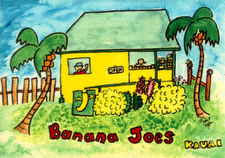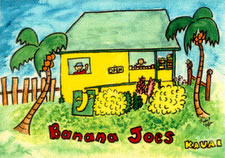 Banana Joe's, the sweet and funky yellow fruit stand on the mauka (mountain) side of the main highway just north of Kilauea is a Kauai institution. It's one of my favorite places to pick up fresh produce, and my boys love their "frosties"—a healthy alternative to ice cream.
They put frozen fruits through a juicer, so it comes out just like swirled frozen yogurt, but it's cold, creamy, delicious—and it's fat and sugar-free. (We always ask for banana alone, or blended with pineapple or papaya.)
Naturally Joe's sells bananas, but they also offer fresh papaya (try the Kauai strawberry sunrise variety), pineapple, organic greens, home grown tomatoes, and whatever is in season, from mangoes to watermelons. They have great smoothies and lots of good snacks, too: assorted baked goods, granola, and locally produced products like lilikoi syrup and goat cheese.