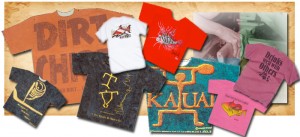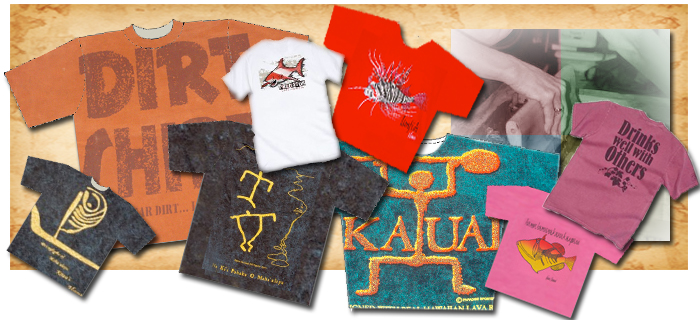 Ever since the 1950's when Marlon Brando showcased the T-shirt in the movie On the Waterfront the Beefy-T walking billboard has been adorned with every slogan, and example of artwork known to man and without a doubt is the most popular 'traveling gift' for vacationers.
The MOST Popular Traveling Gifts…
From the moment you step into the airport to make your way to the Garden Isle and at just about every surf shop, clothing store, ABC store, activity venue, restaurant  and even supermarkets, you will find a T-shirt designed to celebrate the fact that; you were there, that you 'did-it', traveled it, swam it, ate it, drank it, drove through it, and survived it.  And let's not forget the infamous " My parents went to "….." and all I got was this lousy T-shirt…" T-shirt.
Kauai's Red Dirt Shirts…
When Hurricane Iniki – "kissed" the island back in 1992, the Red Dirt Shirt was born and has become a vacationers favorite on Kauai and throughout the islands ever since.  Before silk screening, the white shirts are put through a dying process using the indigenous red dirt that is an ever-present part of the geologic make-up of Kauai.  There are 3 locations on Kauai as well as Maui, and Oahu.  Crazy Shirts is synonymous with Hawaiian Island t-shirts.   Getting their start in a little shack on Waikiki back in the 60's they have now grown to a worldwide t-shirt graphic juggernaut. Their designs are slick, professional and varied as they pull from a multitude of graphic pros.  Each island has a unique design of Crazy Shirt and they have 4 locations here on Kauai.
Local Boutique Print Shops….
One of those 'hidden t-shirt design shop 'gems' can be found on the south shore in old Koloa town, Pohaku – Ts.  Pohaku's  "over dyed" and stone washed shirts are rich and sumptuous and their use of the Hawaiian Petroglyph graphics make their designs definitely one of a kind.  On the north shore in Hanalei, another 't-shirt ' in the rough' design house is Spinning Dolphin Designs.   Spinning Dolphin silk-screens their designs on-premises and in the ever-increasing digital inkjet t-shirt world it is somewhat of a lost art.  Their designs are 'tres' fun and are a throw back to the early days of the silk screen art form.
West Side T Shirt Outlets…
On your way out west be sure to stop at  Nite Owl T-shirts.  Nite Owl has been on Kauai for many years  and has produced and supplied a great number of designs for many functions and causes as well as maintaining a sizable outlet store in Port Allen with an incredible  selection of  designs, colors and styles.
So your task may not be a simple one to choose from the variety of Kauai T shirts available for gifts and/or for yourself.  But  "no worries brah" the right one will speak to you!  Wear it with pride, and watch the appreciative smiles as you give them as gifts back home.  A classic and fun way to take a little bit of Kauai back home with you.