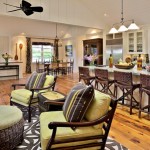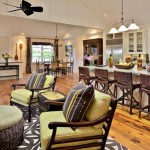 I like every detail of this Hanalei beach house: from the antique pine floors to the wraparound lanai…and it's in one of my all time favorite locations: Hanalei Bay, where I learned how to surf.
The owners gave a lot of thought to this house, and it shows: white board and batten walls evoke the old plantation style, but it has all the modern conveniences: including a fabulous gourmet kitchen and a whole house surround stereo system.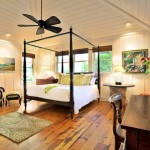 I love the louver doors, four-poster beds, paddle fans in the ceiling, and the gorgeous forest green countertops in the master bath. The great thing about its Hanalei location (well, what isn't great about Hanalei?) is that it's not only across the street from one of the top-rated, MOST beautiful beaches in the world—but you're also close to all the fun restaurants and shops of Hanalei town. There's great steak and fresh fish at the Dolphin Restaurant (where I worked in high school!), wonderful sushi at Bouchons, and yummy tapas at Bar Acuda.
Check out Ola's for one of-a-kind gifts, Yellowfish Trading for cute Hawaiian "kitsch," and Sand People for beachy clothing and décor. (Love their soy-based candles scented with Island fragrances like plumeria and ginger.)
And don't forget to stroll out to the end of Hanalei Pier for one of Kauai's amazing sunsets.