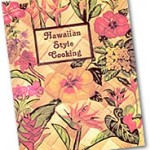 A dear friend of mine recommended that I  check out this cookbook , 'Hawaiian Style Cooking',  by local Kauai resident, Rhonda Lizama.  I have not had a chance to purchase the cookbook which includes over 600 Hawaiian Food Recipes, but I have checked it out online… and tonight just finished making the OMG amazing Pineapple Date Bars!  
Finally a date bar that surpasses the ones my Grandmother used to make… Thank you so much Rhonda for sharing this incredible recipe with us!  I have tested, tried and devoured my fair share of date bars over the years (since they are my top pick for any sweet treats) and this recipe I must say takes the cake… My entire family enjoyed them so much, fighting for every last crumb.  Thanks to Rhonda I know what I will be making for my son's potluck at school on Friday …. Yummmmmy!!!
Be sure to visit the Hawaiian Style Cooking website to find more free Hawaiian recipes and to order the cookbook.
Pineapple Date Bars
Ingredients:
1 cube butter
4 eggs, beaten
1 cup chopped macadamia nuts
1 1/2 cup flour
1 tsp. salt
2 cup sugar
1 cup crushed pineapple, drained
1 pkg. dates, cut fine
1/2 tsp. baking soda
Instructions:
Combine butter, sugar and mix well. Add beaten eggs, mix until blended, add crushed pineapple, nuts and dates. Sift flour, baking soda and salt and add to first mixture. Pour into baking pan lined with wax paper. Bake in 350° oven for 50 to 55 minutes. Slice warm, roll in sugar.
Enjoy…..