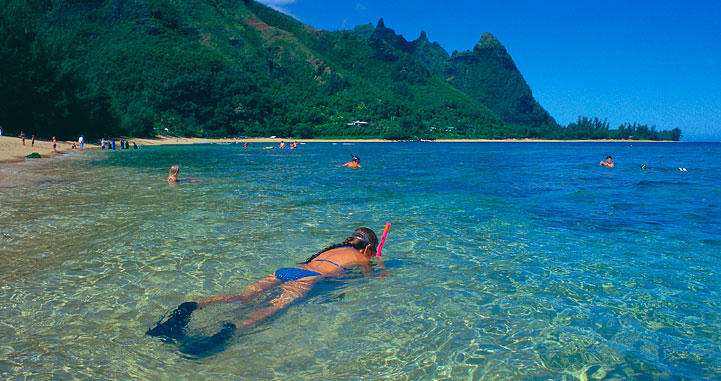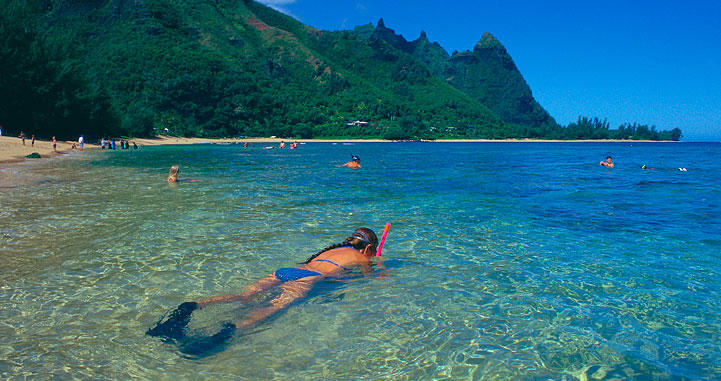 Bali Hai may call you,
Any night, any day,
In your heart, you'll hear it call you:
"Come away…Come away."
Did you know that there's an actual Bali Hai? Mt. Makana ("the Gift"), a mystical mountain peak on the island of Kauai, is the landmark that inspired the siren call from "South Pacific."
And Pu'eone, a 3 bdrm/2 bath gem with a view of that special peak, will inspire you. A vacation rental on a stunning white sand beach, Pu'eone is located in Haena, one of the most heavenly spots on earth.
In the living room, a large "punee"—a Hawaiian-style sofa/bed—beckons: perfect for relaxing and taking in the panoramic views. Sunsets are best seen from the covered patio, with a built-in barbecue where you can sip a Mai Tai and grill fresh Island fish such as mahi mahi, ono or ahi at day's end.
World famous Hanalei Bay—a 15 minute drive over seven one lane bridges— offers the conveniences of grocery stores and shops, banks, restaurants, churches, and a post office. A few minutes in the other direction, the pavement ends at Ke'e Beach, the gateway to the famed Na Pali Coast, where dramatic emerald cliffs plunge into cobalt seas and trails lead to secluded valleys.
Haena is the last "outpost" on Kauai's North Shore—and the perfect place to get away from it all. Framed by lush green jungles, waterfalls, and white sand beaches, Bali Hai is still calling. You.
Anini Beach
If water sports are your passion, Anini Beach boasts the longest reef in the Hawaiian islands—and that means calm, protected waters year round, perfect for snorkeling, swimming, stand-up paddling, windsurfing, and a myriad of ocean activities.
And if you feel like spoiling yourself, look no further than this Anini Beachfront Home ($11,900 – $19,750/week) surely one of the most luxurious rentals in the
Hawaiian islands.
Snorkel in tropical waters, float beside green sea turtles, swim, kayak… time will melt away as you enjoy this private estate. Seamless indoor/outdoor living—with two covered ocean view lanais—is a focal point of this 4 bdrm/3.5 bath home (with a separate 1bdrm/1 bath guest house) set on a very private beach. A fully-equipped gourmet kitchen with jade green granite counters, custom cabinetry, Sub Zero refrigerator, and six-burner range makes this a popular choice for weddings, receptions and special events, while the lush grounds are conducive to meditation, outdoor yoga… or just a peaceful nap in a hammock under a leafy kamani tree.
Ever popular Anini Beach is close to both Kilauea (home to excellent casual eateries and charming boutiques) and the Princeville resort (shopping, dining,
tennis, golf, spa, and the upscale St. Regis hotel).
In historic Hanalei, just down the hill, you'll find more restaurants, galleries, boutiques and services (including massage and yoga) as well as shops to rent snorkel gear, bikes and kayaks. Make sure to spend some time at majestic Hanalei Bay—one of the most beautiful beaches in the world—and cool off with a rainbow "Shave Ice" at one of the local stands afterwards.
Poipu Beach
The famous "Tunnel of Trees" leads to the sunny south side of Kauai, home of Poipu Beach, one Hawaii's premier swimming, snorkeling, and diving destinations.
After a hard day on the sand, hop into a hammock suspended from swaying  coconut palms and enjoy the view at the Kai Lani Estate, located just 20 feet from the water's edge. A 3 bedroom/3 bath home and guest house with a pool, Kai Lani is the perfect spot to indulge your love of the sea and its many moods: from the watercolor blues of a calm, glassy day to the drama of crashing winter waves.
Just up the road, Koloa town has its roots in the sugar plantation era, and the revitalized village is a charming reflection of its Island heritage. There are a number of restaurants, shops and galleries on the main street, as well as grocery stores, sundry shops and a post office. And even closer, in Poipu, you can explore the new,  plantation-themed Kukui'ula Shopping Village, home of upscale (Merriman's Kauai, Josselin Tapas Bar & Grill) and casual (Bubba Burgers and Dude Dogs) dining. Check out the new Tommy Bahama store, have a coffee or a gelato at Lappert's, or stroll through the Living Foods Market and Café, where you can pick up organic, locally grown produce and gourmet take-out.
Here's the thing: Bali Hai is an actual mountain peak in my neighborhood. It's really called Mt. Makana, and it overlooks Tunnels Beach, which is one of our favorite, favorite (did I mention, "favorite?") spots to swim, snorkel, and just hang out. It's one of the most photographed views in the world (I think you can see why)… and one of the many reasons our little island just got named the second best island in the world by Travel + Leisure readers, second only to the Galapagos.
But since we have turtles too, I don't totally understand.  The bottom line:  if Bali Hai is calling you, call me!