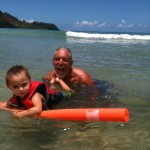 My dad is the most amazing, inspiring & wonderful human being.  He is my hero… I think he really shined in my eyes when I had kids!  My father's love for my boys (2 and 4) is so natural, pure and with no hesitation.  I guess, through my 'mommy eyes', I see things a little differently then I did as a child being 'parented'.
So… with all this being said, what do you do and get the most amazing dad in the world for the day meant for dads, Father's Day??  Hmmmm.  I have searched on-line for 'stuff', nothing…. maybe a dinner gift-certificate, too picky…. day at the beach, week-end usual… I finally came across in my opinion the perfect thing, a photo collaboration book!  I know what you all are thinking, been there & done that.  Well, take a 2nd look at this 'book'… I came across it on the apple site and am so happy I did.  The way it works is you use all of your pics to create a book that apple makes into a  hard-copy and mails it out in 3-4 days!  I have yet to get our copy in the mail, but expect it by Friday and am SO excited…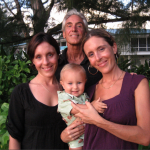 Oh… also, I decided to take my Dad to Postcards Cafe, a favorite restaurant in our family!
Any  man can be a father, but it takes someone very special to be a Dad….
HAPPY FATHER'S DAY TO ALL THE DADS OUT THERE!