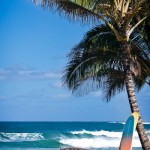 If you've been on the fence about vacationing on Kauai this summer, may I politely suggest that you hop off… now!
Because after a lackluster 2009 in which the number of airline seats to the Hawaiian Islands declined—and hotel occupancy was in the lua (that's Hawaiian for "toilet")—the airlines have been steadily adding seats and new routes. That means more competition for Kauai vacation rentals. Many of the choicest rentals are already booked, so the sooner you decide the better chance of getting what you really want.
Hanalei Bay is consistently one of Kauai's most desirable vacation rental locations because there are so few rentals in comparison to the number of people who want to stay there.
And if you prefer the southshore, there's a hammock strung between two coconut trees with your name on it at the Kai Lani Estate, right on the beach at Poipu.