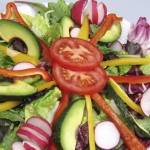 Aloha Guests!
I LOVE my salads and feel like I am always experimenting with different store bought dressings without ever finding that perfect one (not to mention also paying an arm and leg for a little bottle!).  I have made it my mission to come up with a home made dressing that tastes great (for my husband and I as well as my two little ones… this is the hard part), is healthy and much less expensive. With much trial and error, I believe I have finally come up with a recipe that is worthy of sharing with you all… Here it is, Jean & Abbott's Papaya Seed Dressing:
Ingredients
1 cup sugar (or if you prefer you can substitute with 2/3 cup Honey)
1 1/2 teaspoons salt
1 tablespoon English-style dry mustard
1 cup tarragon vinegar
1 cup light olive oil (of if you prefer the stronger olive flavor you can use full-bodied olive oil)
1/4 cup minced Maui sweet onion or red onion
1 papaya, halved, reserving 3 tablespoons of the seeds and reserving the fruit for another use
Preparation
In a blender or food processor blend the sugar (honey), the salt, the mustard, and the vinegar until the mixture is smooth. With the motor running add the oil in a stream and blend the dressing until it is emulsified. Add the onion and the reserved papaya seeds and blend the dressing until the papaya seeds are the consistency of ground pepper. The dressing keeps, covered and chilled, for 2 weeks.
I hope you enjoy this dressing as much as my family does… Happy Salad eating!