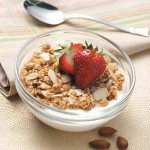 The sights, smells, and tastes of t
he island makes visitors and locals alike savor in it's tropical
mystique.  While visiting Kauai or back home, take some time out of your day to test out this amazing Granola recipe that will bring the islands into your kitchen!
Coconut Crunch Granola:
3/4 cup unsweetened shredded coconut
1/2 cup raw pumpkin seeds
1/2 cup raw sunflower seeds
1 tablespoon unsulphured molasses
1 tablespoon pure vanilla extract
2 teaspoons ground cinnamon
1. Preheat oven to 350 degrees.
2. Combine all above ingredients in a large mixing bowl and toss together until evenly combined.
3. Lightly brush a rimmed baking sheet with oil.  Spread granola mixture in a 1/4–1/2 inch-thick layer on baking sheet.  Bake for 45-60 minutes, stirring every 15 minutes, until golden brown.
Serving Tip: I love to top this granola with plain yogurt, fresh fruit, and maybe a drizzle of maple syrup.  Also it tastes so yummy as a topping to vanilla frozen yogurt or ice cream!