Polihale Beach Park:
From the time you leave the paved road behind to jolt north through a maze of sugar cane fields, you know you're in for something special. Gradually, beyond the tall sugar cane rustling in the breeze, a dark ridge of jagged peaks appears on the right. As you get closer, these giant cliffs reveal splendid colors – trees and bush in vivid greens against the black rock slashed with the deep red of the volcanic soil. When you can drive no further, the beach at Polihale emerges from the base of the cliffs – an enormous stretch of brilliant white sand more  immense, it seems, than the cliffs which tower above and the band of deep blue sea beyond. Only the sky seems the equal of this vast expanse of glaring sand, so wide that to walk from your car to the ocean on a sunny day will burn your feet, and so long that no single vantage point allows the eye to see its full extent.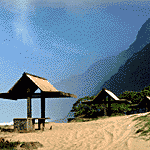 'Beautiful' is too small a word for this awesome place. Polihale – home of spirits – is more appropriate, not only because the majestic cliffs and beach dwarf anything human to insignificance, but also because here man's access to the western coast really ends. Beyond lies the Na Pali wilderness, unreachable except by boat or helicopter, or by the handful of hikers who dare to climb the narrow and dangerous trails. Polihale is the threshold between the known and the unknown, the tamed and the untamed, the familiar and the wild.
Swimming is treacherous; the rolling, pounding surf even at its most gentle is only for strong, experienced swimmers. No reefs offer protection from the powerful ocean currents. Come instead for the spectacle, to picnic and walk, to gaze at the grandeur of cliffs above the endless sea and sand, to
listen to the silence broken only by the crashing surf, to appreciate in solitude the splendor of nature's power. A feeling of awe lingers even after you return to paved road and a world of smaller proportions.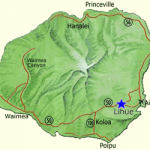 Directions: From Lihue, take Highway 50. Drive past the towns of Waimea and Kekaha. Turn on Kekaha Road, then take a right on Old Mana Road. Continue driving for approximately 13 miles (the last 6 miles is a dirt road). Polihale Beach Park is at the end of the road.
Address: Off Kaumualii Highway, Hwy 50, Waimea, Kauai, HI 96796