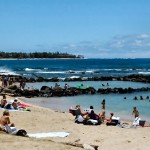 Lydgate Beach Park just south of the Wailua River is a favorite spot for families and visitors alike.  A rock-rimmed pool provides safe swimming for babies and toddlers, even in the winter months.  We have a 1-yr old and 3-yr old and they 'dig' this place…  They can run around and swim and feel completely confident with the ocean conditions remaining very peaceful and calm.  This pool is one of the best year-round snorkeling spots on the island, families of brightly colored fish feed along the rocky perimeter, so familiar with people they almost swim into your hands.  The rocky wall protects snorkelers and swimmers from surf and dangerous currents.  Fly a kite, play Frisbee on the wide, sandy beach, and collect shells and driftwood… fun for all!
Adjacent to the Lydgate Beach is the  Kamalani Playground, my kids  LOVE this place!  I believe right around 16,000 sq. ft. of fun, with mirror mazes, a suspension bridge, lava tubes, and circular slide.  South of Lydgate, the beach ideal for long walks, very beautiful and almost deserted.  Continue past the rocky point in front of the Kaha Lani Condos along the beach (or take the paved bike and walkway) towards the Hilton Hotel.  The sand is firm an fine, perfect for walking or jogging, not to mention amazing views of the coastline, particularly beautiful at sunrise or sunset.  Many of the times, all who will be joining you along the beach stretch is the fisherman checking their lines.   Do swim with caution, however, for surf can be rough and currents powerful: Lydgate's pools are much safer for ocean activity.
Directions to Lydgate Beach Park:
If you are driving North on Hwy. 56, turn right onto Leho Road just past the Wailua Golf Course.  The right turnoff to the park is clearly marked.  Follow this road to the park and the rock pools.  If you are driving south on Hwy. 56, you must turn left onto Leho Road just across the bridge over the Wailua River, at th Aloha Beach Resort.  Lydgate does have a lifeguard, picnic tables and showers.
Please take a moment to explore our Kapaa vacation rentals in the area.
Have fun….