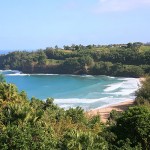 You'll catch your first glimpse of Kalihiwai Bay as your drive down the narrow road engraved into the side of the sheer cliff which encloses the beach on one side.  From this angle, the bay is a perfect semi-circle of aquamarine, rimmed with glistening white sand and nestled between two lava cliffs.  Ironwood trees and lush vegetation line the beach, a great area for kids to explore, make forts and be little Hawaiian Natives for the day!   A freshwater stream flows into the bay near the far end, so shallow and gentle at low tide, small children can splash and play around safely.  Another favorite area for my two tots… there are a few rope swings too, A+!  The stream does become deep enough as it goes back towards the valley for kayaking, paddle boarding  and adventuring up-river.  Here we come Robinson Crusoe!
At times, the waves rise very slowly and break in long, even crests over a sloping sandy bottom, perfect for body surfing and boogie boarding.  One summer day we watched a few children take part in a birthday with a surfing party, the Kauai way to celebrate!   In winter, the surf and rip tides in the bay can become very dangerous and unsafe.  Even experienced surfers may have difficulties managing the currents which can be particularly strong when a swell is high.  If the surf is too rough, Kalihiwai is still a lovely beach for walking or jogging, with nice hard sand and magnificent views of the cliffs.  Pick up a picnic lunch at the Kilauea Fish Market (best of the best!!  The Ahi Tuna wrap is the bomb!) and head on down… you will be very happy you did, fun for all!
Please do take a moment to further explore the Kalihiwai/Kilauea area and also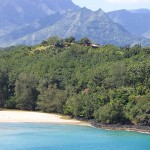 our wide selection of vacation properties in this area… from hidden cottages off the beaten path,  to very high-end, luxury estates.
Directions to Kalihiwai Bay:
Coming from Lihue you will head North on Hwy 56 for approx. 20 miles.  A yellow siren atop a pole on the Kalihiwai Beach road is a reminder of the Tsunami  of 1957 which washed away the bridge originally linking the two roads leading from the main highway to Kalihiwai Bay.  Today both roads are still marked Kalihiwai Road at their seperate intersections with the main highway, they just don't link.  Either road will take you to the bay.   If you choose the Kalihiwai Road just north of the long bridge on Hwy 56. you will have to wade across the stream to reach the beach. The 2nd Kalihiwai Road just south of the bridge and north of Kilauea is preferable (the first road you will come to heading down from Lihue) and this road leads directly to the beach with plenty of parking.
Have Fun!