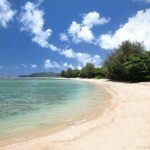 This quiet, beautiful beach goes for miles along a coastline protected by an extensive offshore reef.  At some places the Anini road is so close to the water you could almost jump in.  The Anini beach park has restrooms, camping, and picnic facilities, although you can turn off the road at almost any spot, park and find your private paradise.  The Anini reef creates a quiet lagoon, great for summertime snorkeling, and for windsurfing at any time of the year.  During high surf, particularly in the winter, the current running parallel to the Anini  beach can become strong enough to pull an unwary swimmer out through the channel in the reef at the west end of the park.  Stay inside the reef.
Across from the Anini Beach Park, the Kauai Polo Club hosts matches on summer Sunday afternoons.   Continue along the  Anini Road through a quiet residential area all the way to its western end where a sandbar extending quite far out invites wading and fishing.  Children enjoy the quiet water and the tiny shells along the waterline, and you'll love the amazing combination of sounds – the roar of the surf breaking on the reef far offshore, and near your feet, the gentle rippling of the sea upon the sand.
In the summer months, you can watch the sun set into the ocean at Anini Beach, a glorious sight which can be yours in perfect solitude.  The tall ironwood trees darken to feathery silhouettes against a pale gray and orange sky, filled with lines of puff clouds.  The water shimmers gold as the sun's dying fire fades slowly to a pearl and smoky gray, to the songs of crickets and the lapping of the gentle waves.
Driving Directions from Lihue Airport to Anini Beach:  Drive North on  Highway 56 – 25.5 miles through Kapa'a and Kilauea. Turn right onto the second Kalihiwai Rd. (Kalihiwai is a
loop road, the first entrance is about a mile back down the highway.)  Make a left on 'Anini Rd. after 1 mile. It's 1.2 miles to 'Anini BeachPark along 'Anini Rd.
Please take a minute to read more about the Anini area and preview our large selection of Anini Beach vacation rentals for an experience not to be missed.

Enjoy…..