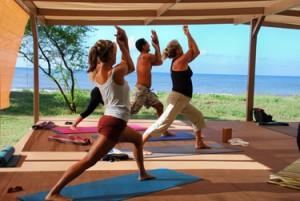 For those who are choosing Kauai to re-establish their Mind, Body, and Spirit connections you have made an epic choice.  The practice of Hatha Yoga has become a multi million dollar industry in its current reincarnation and its popularity has been embraced on the Garden Island in many forms and styles.  So if getting your "asana-on" is an important part of your visit here, Kauai's hatha yoga scene will not disappoint.
Hanalei
Starting at the north end of Kauai is one of the Island's  'oldest' studios; Yoga Hanalei.  Founded in 1999 by Bhavani Maki, Yoga Hanalei offers a full range of classes in the Ashtanga and vinyasa  forms of  hatha Yoga and is located in the Hanalei Town Center on the second floor of the Redwood Building.
Princeville
For the Bikram style of yoga enthusiast, in the Princeville Center above Lappert's Ice Cream, next to Foodland is Princeville Yoga.
Kilauea
For visitors staying in our Kilauea vacation rentals and Anini Beach vacation rentals  these studios are a great place to start.  Metamorphose Yoga Studio in Kilauea gives the lover of hatha yoga a complete menu of hatha yoga expressions that are sure to engage and inspire.
Also in Kilauea, the Ashtanga yoga (Mysore style) practice takes place daily at 7:30-9:30 a.m every morning (except Sundays) at the the Parish House in Kilauea under the guidance of 'Eagle" and Pineapple yoga.
Michelle Edwards, the founder and developer of the Yogalign method offers Mana Yoga at her studio with weekly classes (8:30-10:30 Mondays and Wednesdays) and certified teacher training throughout  the year.
Kapaa
Tucked away in the blue Kodani Building in Kapaa (adjacent to Aloha Nail Salon and Sign & Print), near Cost U Less and Pono Kai Resort is Kauai Power Yoga.  Based on the teachings of Baron Baptiste they offer the popular 'hot' flow style of practice throughout the week.
The Golden Lotus Studio in Kapaa not only offers hatha yoga and dance, but operates as a massage school as well.
Bikram Yoga Kauai at The Hot Yoga House says it all. The classic 'hot' yoga series  founded by Choudhry Bikram in the early 70's is offered here.
Studio Barre and Soul is situated in the Royal Coconut Plaza behind the Wahooo restaurant and across the street from Foodland Market.  It offers not only hatha yoga but the ballet-based barre classes.
Poipu, Koloa
If you are enjoying one of our Poipu Vacation Rentals  here are some Hatha connections to look into on the South Side…
Oceanfront Yoga  led by Antonia Joy has been a mainstay on the south shore teaching at both the Grand Hyatt Anara Spa in Poipu and Koloa Landing Wyndham Grand Resort.
The Poipu Beach Athletic Club's current schedule includes 3 hatha classes and 1 barre class.
You can find several locations for doing yoga near or on the southside beaches at Kauai Yoga on the Beach
Kalaheo
The  Kalaheo Yoga Studio is the Islands' Iyengar yoga 'outlet' but also provides a seven days a week schedule in Vinyasa, Integral, restorative and Barre.
Waimea Beachside
The Plantation Cottages on the Island's westside has had weekly classes at their 'hidden gem' beachside pavilion for over 12 years.
Whether you are a Bikram aficionado, an Asthanga 'addict',  a seasoned practitioner or just wanting to try a hatha yoga class for your very first time  you can find the practice that's right for you.   Some Kauai Hotels and area gyms are also offering hatha yoga classes of varied styles and levels as well.  Check in with the links above or google up 'Kauai Yoga' and start your journey into Hatha Yoga Island-style!