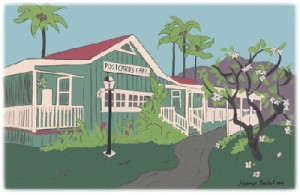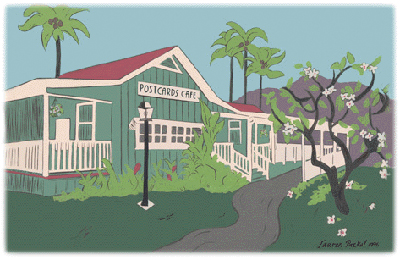 Aloha!  I wanted to take a moment to write about one of my favorite restaurants on the island…
After enjoying some fun in the sun on the north shore, be sure to take your crew to check out one of the bests in my opinion, Postcards Cafe.
Set in a charming plantation cottage in Hanalei, Postcards Cafe is noted for its gourmet seafood & natural cuisine with the emphasis on fresh, mostly organic ingredients and a deliciously creative menu. The restaurant has been praised in Travel & Leisure, In Style Magazine, and Brides Magazine, as well as in travel sections of the country's top newspapers.
The lanai has lovely mountain views, and the vintage dining room features white washed-walls, beamed ceilings, and framed articles depicting by-gone days on Kauai's magical north shore.
First taste: 'Pupus' (aka: appetizers), featuring:  taro fritters with pineapple chutney; seafood rockets (a melange of fish, shrimp and coconut in a crispy shell); porcini-crusted scallops; seared Cajun-crusted ahi with chipotle chile sauce; crab quesadillas, vegan Thai summer rolls and many more creative and tasty starters.
Entrees include grilled or blackened fresh fish; the Sombrero, achile/com/black bean/tomato treat; the  Shanghai, with sauteed tofu, crisp vegetables and roasted cashews in tamari sauce; the Seafood Sorrento, a divine seafood pasta with fish and shrimp, Kalamata olives, mushrooms, onions and capers in a garlic white wine sauce; The Francesca, a puttanesca pasta with a sherry marinara; and wasabi-crusted ahi with a mirin shoyu ginger sauce. There are outsanding specials every evening, luscious desserts, and organic coffee , teas and juices. Open nightly from six o'clock.  Reservations highly recommended!
My family and I visit Postcards frequently, the staff is always so warm and helpful, the food always fresh and tasty and the ambiance very cozy and comforting.  I rate the overall experience – A+!