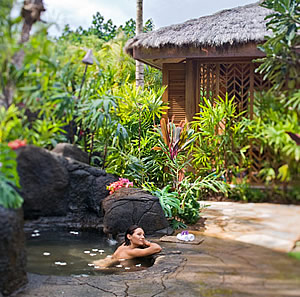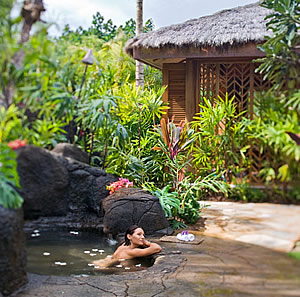 If  you are staying in the Poipu area on the Island of Kauai  (actually, it's worth the drive no matter where you are staying!) you must experience pampering 'Kauai-style' at the amazing and world-class Anara Spa, located at the Kauai Grand Hyatt.
Since opening in 1991, the Anara Spa at the Grand Hyatt Kauai Resort has pampered guests with world-class treatments that blend traditional Hawaiian customs with nature's soothing powers. Each of Anara's personalized spa services embrace elements of traditional Hawaiian healing to release your mind from stress, promote optimum health in your body, and achieve lightness in your spirit, enabling a profound sense of harmony, or lokahi.
With the 2007 completion of the 20,000 sq. ft. expansion, Anara Spa experiences are now offered outdoors, in the natural sanctuary of the Lokahi Gardens.  Amidst lush tropical grounds, waterfalls, and serene soaking pools, treatments are provided in luxuriously private individual and couple's hale (bungalows). Each open-air, teak and thatched-roof hale features a secluded garden, private lava rock shower and wild-ginger steam grotto.
In addition to the 16 indoor and outdoor treatment spaces, a full-service salon and the spa boutique, the Hawaii spa retreat's extensive facilities include a garden Vichy Shower, 25-yard lap pool, men's and women's steam rooms, saunas and whirlpools, lava rock shower gardens,relaxation courtyards, a state-of-the-art fitness center and an open-air yoga/cardio pavilion.
Many Hawaiian cultures believe that the closer you are to nature, the closer you are to discovering yourself. Through the guidance of Hawaiian traditions, your experience at the award-winning Anara Spa will lead you to a place of lokahi (harmony) that will continue to resonate long after you leave the magical island of Kauai and the Kauai Anara Spa.
Address of Anara Spa:  1571 Poipu Road,  Koloa, HI 96756
Or Call (808) 742-1234