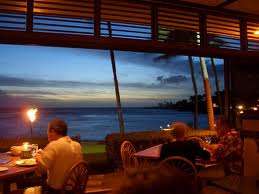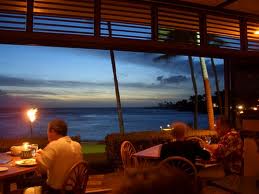 The Beach House restaurant is one that cannot be skipped while visiting the island.  A casual yet high-end pacific rim style restaurant that has become one of my family's favorites!
The awesome presence of the ocean is a constant at this lovely restaurant which features a multi-level dining room with doors thrown open to the vista and the breezes. The menu boasts a contemporary island flair, thanks to a focus on local seafood and an Asian culinary sensibility.  Kiawe-grilled entrees include fire-roasted ahi, lamb marinated in mint and coriander, and Cajun-spiced ono. Crab-stuffed pork medallions are succulent, as are Chinese-style roasted duck and delicate sea scallops.  Local Boy Paella, tinged with saffron and savory Chinese sausage, is a perennial favorite, and Molten Chocolate Desire is a foray into gooey decadence that can't be side-stepped!
While dining, right around dusk, if you look around suddenly the dining room  will look almost empty… Everyone goes out looking at the sunset and having their pictures taken by the waiters!  Directly in front of the restaurant the sun sets and this is priceless.  The waiters usually come over to the tables and offer their assistance with taking photos, in my opinion above the call of duty and another reason the restaurant stands out!  There is also normally a professional photographer too that will take your picture at sunset for a fee.   The sunset/ocean views from this restaurant and great food truly make it a special evening surely that will have you returning year after year (if not nigth after night on your current vacation!).
Happy Feasting!!