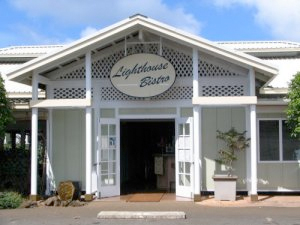 The Lighthouse Bistro is one of Kauai's well known restaurants located on the north shore of Kauai in the heart of Kilauea. Lighthouse Bistro features a unique menu with incredibly innovative dinner specialties and fresh local produce.  Enjoy Pacific Cuisine with European Fusion in a open air plantation atmosphere. They have live music 4 nights a week with local entertainers which is always a blast… call ahead to make sure you go visit on one of these nights.
Even if you're not on your way to the legendary Kilauea Lighthouse, this bistro is so good it's worth a special trip. The charming green-and-white wooden building has open sides, old-fashioned plantation architecture, open-air seating, trellises, and high ceilings.  The ambiance is wonderful, with a retro feeling. The food is excellent, an eclectic selection that highlights local ingredients in everything from fresh fish tacos and fresh fish burgers to macadamia nut crusted ahi and four preparations of fresh catch. The mango-cherry chicken in light lilikoi sauce is a tropical delight. The ahi quesadilla comes beautifully presented with rice, black beans, and spicy condiments on a plate painted with purple cabbage shavings and herbs — much more elegant than the usual lunchtime fare.
This Restaurant serves both lunch and dinner, both are divine.  The area around Light House Bistro is also very fun to explore; stylish boutique stores,  a unique island soap and candle shop, a delectable bakery and coffee shop… an area worth a few hours of your vacation time!