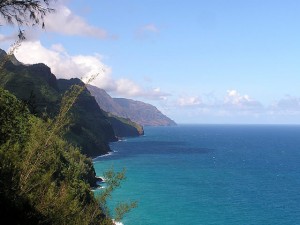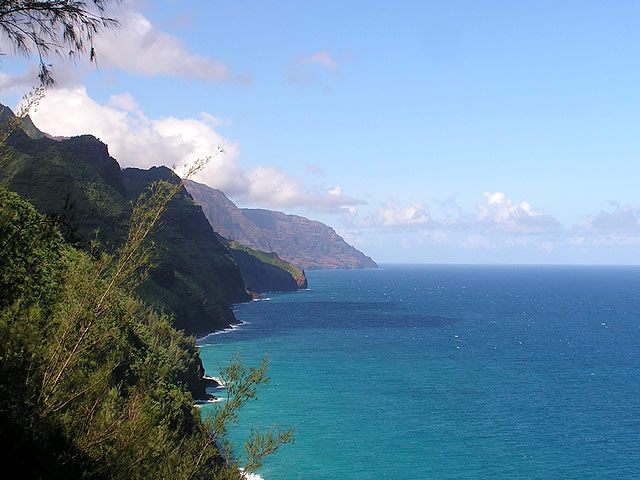 One of the most amazing and at least in my opinion, life changing things that Kauai has to offer is its bountiful "Napali Coast" (Pali comes from the Hawaiian word for "cliffs").
Kauai's main highway, Kuhio Highway, wraps almost completely around the island except for the stretch of coastline that is called the Na Pali Coast, home to the legendary Kalalau Trail. The trail spans roughly 11 miles down a rough and rugged and insanely scenic coastline.
The last time I kayaked down the Napali coast I saw at least 20 green sea turtles, breaching whales (which is rare in the summer), spinner dolphins, and of course the heavenly jewel, Kalalau Valley.  There are several ways that you can go about experiencing the coast and the easiest is through a guided boat tour. But if you are up for it and are in good shape, then I recommend hiking as much of the trail as you can. Keep in mind though that it is a very steep, and somewhat perilous trail (depending on the weather). If you want to try and make it all the way to Kalalau Valley and want to camp there you will need to get a permit in advance.   Keep in mind you will want to start very early so as to leave yourself enough time to get there during the daylight hours.  The seclusion and majesty of the trail are the same thing that make it dangerous.  If you aren't going to hike the whole thing it is still worth it to go and hike what you can.  Even hiking the first mile there is a lot of beauty to take in.
Should you decide on an easier day activity I also recommend taking the Kalalau trail starting at Kee and going roughly 2 miles to Hanakapiai.  This is also an option if you want to make it all the way to Kalalau but want to stop and camp after traveling the first 2 miles.  Once in the Hanakapi'ai Valley there is a great waterfall.  The beach is also beautiful, however the state government warns that it is not recommended that you swim as the current is very strong and drownings occur regularly.  Also check weather conditions from the last few days to find out the condition of the trail.  Heavy rain can cause erosion and slick terrain.
HAPPY HIKING!