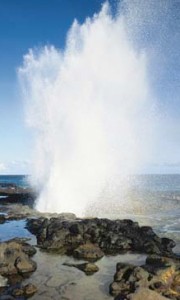 The Spouting Horn is a large lava tube blow-hole that fills with water when the waves are right and gushes up towards the sky.  Under the right conditions the waves make a huge hmph! sound that gives the horn its name.  Stay on the overlook, foolish folks have gone down on the slippery lava rocks and have been sucked in!
In the spring you may see dolphins or turtles or even whales swimming in the distance.  In any month, you will enjoy the very reasonable prices on the jewelry offered by the vendors in the tents near the parking lot.  Here you can get real mother of pearl, black pearls, crystal jewelry and fresh water pearls for rock bottom prices!  Check out the carved wooden switch-plates and the colorful wraps as well!
Driving Directions:  From Lihue Airport take Hwy.  56 south past Lihue until it turns left into Hwy. 50. Take 50 until you reach the left hand turn off to 520. This is the famous "tree tunnel".  Follow 520 south through the town of Koloa until you reach Poipu Road. Take this until the road forks and curves to the right onto Lawai road.  Follow this for a distance of several miles untill you see the Spouting Horn sign to the left. You will also see several tents with vendors in them.  Park to the left in the lot and have a great viewing!